Highlighting the benefits of volunteering
We chat to three Engineers Without Borders members who have dedicated time to helping their communities.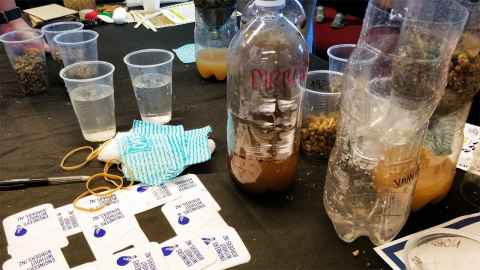 It's national Student Volunteer Week, which aims to celebrate the young people amongst us who are making a positive change through volunteering, and encouraging more people to give it a shot.
For this occasion, we feature three of our current and former students who have worked with our student chapter of Engineers Without Borders (EWBNZ) as they discuss the impact of volunteering on themselves and others.
EWBNZ is part of a global non-profit dedicated to connecting, educating and empowering people through humanitarian engineering. The organisation has seen professional engineers deployed in underprivileged communities to work on projects such as ensuring clean water, designing shelters to withstand natural disasters, risk mitigation, and more, proving that engineering can literally save lives.
Mercy Lin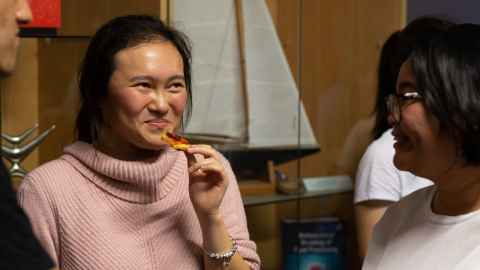 Part IV student in Civil Engineering
"I was doing the Engineering Revue when I was told about humanitarian engineering and finding communities that do work that build on our knowledge. It sounded interesting and worth my time. I know about monetary contributions in terms of charity work, but EWB ticked the community involvement box that I was looking for.
"At the time, I'd also only finished one year of Engineering and wasn't given too many opportunities to see what engineers do, what they were, and how different they are, so this was appealing to me. This intrigue helped me widen my viewpoint and expanded my horizon of the engineering industry. Humanitarian engineering involves learning by doing and immersing yourself. You get to experience it all for yourself; it's not just theory.
"There are a lot of ways to relate my volunteering to study. ENVENG224 for example tells you about the in-depth options to solve problems with water filters. This extra knowledge gave me confidence in presentations, especially during school visits. Humanitarian engineering applied well to my uni classes, like in how different communities use technology, or levels of water regulation in polluted areas, and more. It helped me see things through a different lens and be aware of social impact and consequences.
"A really valuable lesson I gained through volunteering is how easy it is to interact with professionals – it's not that scary! I got really comfortable with asking 'silly questions' that aren't actually that silly. All of this has helped me to meet new people and take on new responsibilities. I'd say that when people are involved in something, and it's something that they actually like, and it aligns with their values, then they'd want to do more. I'm not at a standstill, and there's always something new here. I can keep bringing something new."
Bryan Busby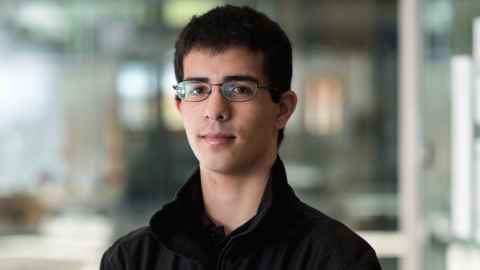 Fifth year BA/BE(Hons) student in Mechatronics Engineering
Current EWB Auckland Students Committee President
"EWB gave me a broader understanding of business strategy and management aspects across my courses like SCIGEN 201, ENGGEN 204 and ENGGEN 403. I noticed that I was becoming hyper-aware of the impacts of management strategy on people and organisations, and got to apply these in tangible situations during my volunteering and academic team projects. The things that we don't often think about directly in engineering became realistic and the practical experiences I gained with EWB made me appreciate my uni course content more.
"Volunteering allowed me to see how the professional community operates. Things aren't the same, 12 hour days exist, and I learnt about the importance of small gestures – thank yous, follow-ups, the check-ins. It's also about making sure that the little things are done right. I also felt a lot of pride from seeing our volunteers happy and satisfied with the journey we walked through together.
"I initially chose EWB because of their work with schools. I'm passionate about education not just on the standardised level, but on personal development, growth, career disciplines, and what drives you as a human being and what motivates you the most. Working in schools with EWB allowed me to channel this passion, and see the possibilities and the potential to have an impact in the world.
"I think the opportunity to talk about open-mindedness was the most rewarding moment in my five years of EWB. I really appreciated the team's enthusiasm when I introduced this topic despite my initial lack of confidence. Enabling others to start their development journey and increase their self-awareness was fulfilling. It was different to tutoring NCEA students - I wasn't teaching standard subjects, I was teaching life lessons. I felt like my passion was finally bearing fruit."
Gina Yukich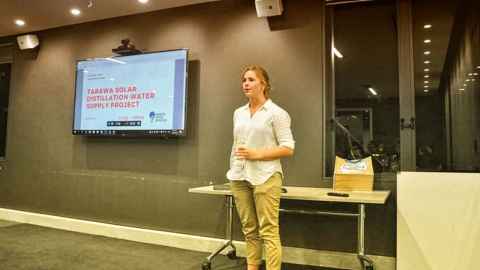 Project Manager, WSP
BA/BE(Hons) in Civil Engineering graduate, 2017
"In 2015, I went to an AGM where I didn't know much about what EWB was, but the Working With Communities team sounded like the most interesting thing to me and I've been with them since then. I chose them because I wanted to connect to the technical expertise while I was still studying engineering, and I also knew that I wanted a career in a not-for-profit in the future.
"I've also worked with UN Youth and have noticed that engineers stand out as uniquely suited to volunteering activities. We're really pragmatic, straight-to-the-point problem-solvers! Maintaining an engineer's attitude is easy in these spaces: we're more about trying to solve issues immediately rather than just talking about them at length.
"Getting stuff done early is the key to juggling uni (and now my job) and volunteering. There's a lot of flexibility around it, so make a routine. I'm actually resistant to routines because life is exciting and always happening! So I committed to doing EWB one evening a week. The volunteering opportunities also complemented my uni classes, so you can treat them as learning experiences. You're also not just there for yourself – you're there because you want to work with this team to solve a problem.
"Being an EWB volunteer informed me as a professional engineer working in project management, especially on the people side of things. At both, I've had to talk to clients, ask other organisations for funding, find company sponsors, write professional emails, work remotely and communicate with people overseas and around NZ. They all involve social cues, getting comfortable with talking on the phone, and being confident with my own abilities and opinions. Working itself is not individualistic, you have to be up in people's faces all the time, especially as a project manager."
This piece has been produced in collaboration with former University of Auckland EWB President, Alexandra de Guzman.
For more information on Engineers Without Borders and how you can join them, visit their website or Facebook page.
EWB has also responded to our current situation by launching a public-facing Slack channel so we can all get involved in humanitarian engineering from home. With EWB's conferences and school visits put on hold, the Community of Learning focuses on collaboration and teaching each other about how engineering can improve our society and planet. Get involved by joining them on Slack.
You can also read more about humanitarian engineering – including other EWB stories – in our Engineering: In Context series.