Still room to grow with University Times High Education ranking
As we sat in lockdown level 4 it was nice to hear the University had been ranked No 1 again.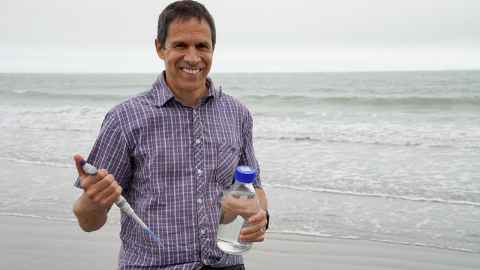 At least one piece of good news came out while staff and students were locked out of the campus for the greater good – that the University of Auckland had been ranked No 1 for the second year running in the University Impact Rankings by Times Higher Education (THE).
The rankings measure the performance of 850 universities in 89 countries against the United Nations' 17 Sustainable Development Goals (SDGs) developed in 2015. The University's success in the Impact Rankings reflects a pragmatic focus on the SDGs. The aim is to 'walk the talk' when it comes to Auckland's fundamental role to provide life-long learning and high-calibre research that responds to grand challenges faced by Aotearoa and the globe.
Professor Simon Thrush, Head of the Institute of Marine Science, says the rating result "gives global recognition to our contribution to sustainability, and in particular to our efforts to help save our unique forests and restore our magnificent oceans".
"Work in marine sustainability and land protection have long been a particular focus for our research teams, independent of the SDGs, and we gained especially highly in goals relating to SDG 14, Life Below Water (2nd globally) and SDG 15, Life on Land (joint 3rd)."
He said it was encouraging to get international endorsement for the University's research. "Because although we often have community support for it, the options for government funding for ecological research are limited."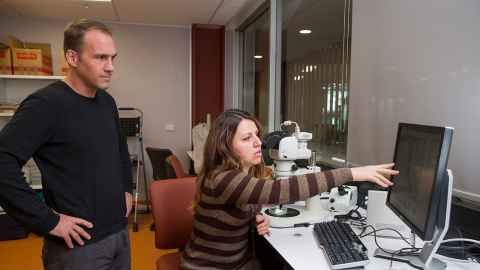 The rating gives global recognition to our contribution to sustainability, and in particular to our efforts to help save our unique forests and restore our magnificent oceans.
An example of Life Below Water research is being undertaken by doctoral candidate Nadia Dikareva (Faculty of Science).
She's one of the most knowledgeable people in the country on the quantity and types of microplastics lurking in Auckland's streams and waterways, and their path from land to sea. Nadia's research project involved spending a fortnight in waders, collecting water and sediment samples in 18 streams from Slippery Creek in Papakura to a stream in Shakespear Regional Park in the north.
She spent months sifting plastic particles from organic matter for microscopic analysis and then used a spectrometer to assess their composition. The result, Microplastic Pollution in Streams Spanning an Urbanization Gradient, was published in the journal Environmental Pollution.
Her study was undertaken before the ban on microbeads in New Zealand in June 2018 but as it turns out microbeads, from facial scrubs and cleansers, are not the major source of micro-plastic pollution in Auckland's waterways.
Nadia's analysis revealed mostly fragments of plastic, almost 80 percent, followed by fibres and films. She isolated 3,309 particles through her microscope that were mostly acrylate polymers used in paints and coating materials, and polyethylene and polyvinyl chloride (PVC), found in common plastics and used in everything from construction materials to cars.
Worryingly, the concentration of microplastics in Auckland streams matched that found in much more densely populated northern hemisphere cities. On average, Auckland's waterways have between 17 and 303 particles of micro-plastic per cubic metre of water and between nine and 90 items in each kilogram of sediment.
Nadia's research points to microplastic pollution in streams we might consider pristine which may be due to 'localised' impacts, such as run-off from rubbish left by people using parks. Another factor might be plastic fibres carried in the atmosphere and settling on regional parks. Her research is supervised by Associate Professor Kevin Simon, an environmental scientist, who says there's still work needed on the impact of microplastics.
"There's now more work focused on the effects of plastics on organisms," says Kevin. "Some studies say nothing happens. Others point to some effects. Certain types of plastics will be a problem in some situations."
That's why microplastic pollution analysis is a burgeoning field and the University has a number of researchers working on the subject. Another example is a multi-disciplinary five-year study led by toxicologist Dr Louis Tremblay in Nelson that's testing what happens when an animal, called a copepod, eats microplastic – with potential implications for the rest of the food chain, including humans. The research is part of the AIM2 project and funded by MBIE.
Louis works for the Cawthron Institute as well as the University's School of Biological Sciences, and is zeroing in on chemicals leaching out from microplastics that float around in our rivers and oceans. He'll check whether the chemicals disrupt basic functions such as moulting and reproduction. (Read more about the initial Endeavour Grant's related projects.)
In a related field, marine scientist Associate Professor Nick Shears from the University's Leigh Marine Research Laboratory, is investigating how healthy forests of kelp seaweed can reduce acidity in the Hauraki Gulf, Tikapa Moana.
The Hauraki Gulf used to be home to unharmed underwater forests of golden-brown Ecklonia radiata kelp, which acted as building blocks of biodiversity, provided food for paua, shelter for young crayfish and baby snapper, and protected the coastline from erosion. Nick says that's not the case these days.
"We have to turn the gulf around now. It's been too many decades of 'let's see what we can get away with'."
Research fellow Caitlin Blain is conducting experiments in the ocean and the laboratory to also measure Ecklonia radiata's effect in reducing levels of ocean acidity. The need to boost kelp stocks was highlighted by the State of the Gulf 2020 report, which revealed declines in numbers of dolphins, sharks and snapper, along with devastation of the seabird population.
Caitlin says kelp is the key: "Kelp forests can potentially provide areas of refuge for species which are very vulnerable to acidification."
And while the University ranked very highly in a number of areas directly pertaining to the UN's SDGs – leading to the No 1 ranking – there are still plenty more areas to work on. That's the goal this year and beyond.  
This story appeared in May 2020 UniNews magazine.