Sustainable response to the pandemic begins locally
Working with Māori with a focus on the UN Sustainable Development Goals is crucial to Aotearoa's recovery from Covid-19 write Jim Metson and Cate Gribble.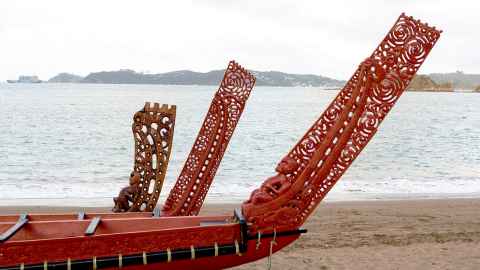 The recent Times Higher Education Impact Rankings are a timely reminder of the importance of the United Nations' Sustainable Development Goals (SDGs) at a time of massive global upheaval and uncertainty.
The Covid-19 pandemic has already brought about profound change on a global scale and is likely to result in further shifts in social structures and in people's values and priorities. The crisis is also an opportunity for universities to critically examine their role in promoting positive social and economic change in their communities that will lead to a more sustainable and equitable planet.
For the second year running, the University of Auckland has been ranked number 1 in the world in the THE Impact Rankings. The new vice-chancellor, Dawn Freshwater, noted that this recognition "affirms our strong commitment to sustainability and making a positive social impact through our partnerships within the communities we serve."
National response
The SDGs align strongly with the government's well-being priorities, providing a framework for a holistic, integrated approach to achieving sustainable development. However, there remains much work to do, with the Covid-19 pandemic highlighting the serious inequities in New Zealand society, further exacerbated by the crisis and increasing in its aftermath. It has also re-emphasised our place in the Pacific with an "extended bubble" proposed that would include a number of the nations in the South Pacific. 
At the University, the Covid-19 crisis has confirmed the critical value of research, with our researchers, together with others in the tertiary sector, informing the national response and mitigating the progress of the virus.
The New Zealand government can leverage the innovation and capability of academic research to plot a new future focused on its broad-based economic and well-being priorities underpinned by its commitment to the SDGs.
These include realising an ambitious commitment to reducing the country's carbon emissions to zero by 2050. New Zealand has a unique greenhouse profile among developed countries: agriculture plays a central role in the economy but is responsible for nearly 50 per cent of the country's gross emissions.
Our universities' collective expertise in a range of disciplines will be instrumental to the recovery efforts, reflecting our society and the communities we serve is paramount to achieving just and sustainable outcomes.
If we are to continue as a food supplier to the world, this poses significant challenges. Achieving an equitable and inclusive transition to a low emissions economy will require creative, interdisciplinary research that recognises the interactions between technology, policy and behaviour. It is worth observing that the movement of things has been far less constrained by Covid-19 than the movement of people.
While New Zealand universities' collective expertise in a range of disciplines will be instrumental to the recovery efforts, reflecting our society and the communities we serve is paramount to achieving just and sustainable outcomes.
We are a Pacific nation with a population of nearly 5 million, shaped by location, history, values, languages and partnership between the Crown and Māori. The special status of Māori, as the Indigenous people of New Zealand, is fundamental to who we are as a nation.
These fundamental characteristics will frame how universities in the country work towards meeting the SDGs, now through the lens of the substantial challenges arising from the pandemic.
While New Zealand has an overall high standard of living, many New Zealanders experience poverty or material hardship. Māori and Pacific peoples in particular are over-represented at the lower end of the economic spectrum, with the Covid-19 pandemic exacerbating existing equities.
The crisis is likely to have a disproportionate impact on these communities owing to the prevalence of underlying health conditions and limited access to adequate healthcare in many communities. Moreover, the impact of quarantine measures, school closures and loss of jobs is predicted to have far-reaching social ramifications. The government's prioritisation of Māori and Pacific aspiration and the economic and social well-being of future generations becomes even more urgent in this context.
Mātauranga Māori
Already, academic researchers are playing a critical role in ensuring that an equity lens is applied to all aspects of pandemic response planning, across the whole of government. The University of Auckland's Māori health experts are helping to lead the way in Te Rōpū Whakakaupapa Urutā – National Māori Pandemic Group, providing expert public health advice for Māori and the wider New Zealand community.
In the future, the Covid-19 crisis is likely to lead to a growing global interest in indigenous peoples and knowledge systems as a growing body of scientific research focuses on the links between health endemics, climate change, deforestation and loss of biodiversity.
New Zealand's researchers have been instrumental in championing a dynamic interface between mātauranga Māori and other science domains to address challenging environmental issues such as waterways degradation, dieback of the iconic kauri tree and exploring Māori values and uses of ecological bio-control agents.
A focus on ending poverty, tackling inequalities and building peaceful, just and sustainable societies has become even more important and relevant as countries begin to rethink their economic and social models for a post-Covid world. However, like many nations, New Zealand faces major challenges. But the unique relationship between researchers and Māori communities will carry useful lessons for the nation, and the wider world.
Cate Gribble is senior policy analyst in the Office of Research Strategy and Integrity and Jim Metson is deputy vice-chancellor, research at The University of Auckland.

Commentary first published by Times Higher Education
Media contact: Gilbert Wong Research Communications Manager
gilbert.wong@auckland.ac.nz 021917942