Remembering Dr Dave Hutchison
It is with great sadness we share news of Dr David Hutchison's recent passing after prolonged health issues.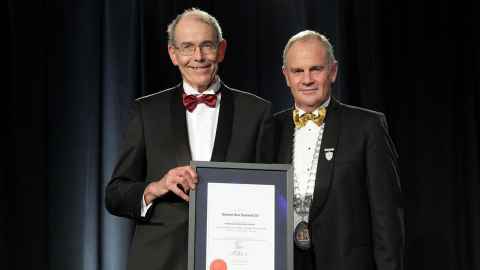 A PhD graduate from our department of Civil Engineering, he was known as 'Dr Dave' by many throughout the industry. He was Chief Civil Engineer for Downer NZ and remained a generous supporter of the Faculty he studied with. Dave will be remembered fondly for his contributions to the Transportation Engineering group and the Department of Civil and Environmental Engineering as a whole, as he served on many research and teaching Advisory Committees over the years. Dave was one of the last of the Ardmore Engineering school graduates for both his Bachelor of Engineering (Civil) degree and his Masters of Engineering in 1969 that was titled 'Threshold of Meander'. He then moved to the then 'new' City Engineering Campus in Symonds Street, where he continued in research to complete his PhD in 1972 titled 'Physics of erosion of cohesive soils'.
Dave then commenced his professional career in the Ministry of Works and in 1978 he was assigned to the Indonesian Department of Works in the Institute of building research working on their seismic loading codes. He returned to Wellington in 1981 and led the structural research and development programme for the Ministry of Works until 1986. He then travelled and worked in the People's Republic of China for three years to be the section head for Intertech Corporation, returning to NZ in 1989 and Works Consultancy and then Opus (now WSP). He joined Works Civil Construction (now Downer) as Chief Engineer in June 1999.
Dave was known for his incredible capacity for work and a great combination of intellectual astuteness, practical capabilities and strong ethics and will be remembered by many throughout the engineering industry as a great mentor. Senior Lecturer Doug Wilson was a long-time friend of Dave's and described him as "a pure and brilliant gentleman who always valued people from all walks of life over and above hierarchy, management or 'bureaucracy', as he called it. For the significant achievement and legacy that Dave has left us all, he remained humble and modest and always attributed his significant accomplishments to 'the team', that included all that worked with him'.
In a tribute posted to Linkedin, Downer Engineering Manager Daniel Crichton noted how
"Dr. Dave was infamous for his technical brilliance, curious mind and unparalleled work ethic."
Daniel described how Dave's influence was felt not just through Downer where he worked, but throughout the wider industry thanks to his integrity and thought leadership.
"Dr Dave's contribution over the years has been enormous and will continue to be felt in the future through the many people he has inspired, influenced, mentored and developed. Dave was a giant but his influence over many of us is his enduring legacy," Daniel concluded.
When Dr Dave retired from Downer in 2018, the company chose to establish a University of Auckland scholarship in his name in recognition of his achievements. The David Hutchison Civil Engineering Financial Support Scholarship is funded by Downer and acknowledges his illustrious career and connection with our Faculty and his desire to help students with financial hardships.
Those that knew Dave will have fond memories of him and his wry sense of humour and continual smile. Dave was a man of strong faith that cared deeply for others and our thoughts, prayers and sincere condolences go to Pat and the family during this difficult time. A memorial service for Dave is planned at some time in the future when this will be possible.