A selection of Kiwi songs for your playlist
In celebration of New Zealand Music Month, Godfrey de Grut, Professional Teaching Fellow from the School of Music discusses some of his favourite tracks by New Zealand musicians.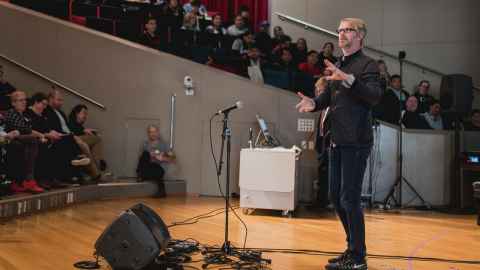 'Cheryl Moana Marie' – Sir John Rowles, 1970
"For some reason the Cheryl Moana Marie chorus in particular hits me hard in the musical solar plexus, everytime I hear it. I hum it to myself regularly, probably weekly at least."
"The song is basically straight-out country with a loping swing beat and an "easy on the ear" primary chord backbone supporting one of the most soaring melodies you're likely to hear north of the 70's."
'I See Red' – Split Enz, 1979
"This manic number was probably the first NZ song I remember hearing as a lad. I distinctly remember my parents playing it on our record player and inviting me to dance to it constantly. It is etched in my brain because while it is simple in its repetitive vocal hook it has encouraged repeat listenings all through my musical journey because of the fearless complexity in melodic phrasing and note choice, let alone the insane keyboarding of Eddie Raynor and sheer wild exuberance of the band from start to finish."
'Nobody Else' – Rikki Morris and Tex Pistol, 1988
"When I first heard Nobody Else back in '88 I assumed that like the Tex Pistol hit 'Game of Love' the previous year, it was another '60s classic reworked with Simmons drums and DX-7s."
"No mere Kiwi could compose such a monumental melody," thought 11 year old Godfrey. Now I know Rikki Morris did 25 years ago, and 40-year-old Godfrey still thinks there is no better NZ song than this one."
'Last Night' – Nathan Haines, 1994
"The very first thing you hear on Nathan Haines' ground breaking debut album is so confident in its spare simplicity it can't help but draw you in, wondering what is going to happen next. It combines rock steady drum patterns (courtesy of Micky Ututonga) with harmonically opaque hard-synced tremolo Rhodes (Kevin Field). Impeccably layered vinyl scratching (Manual Bundy) is the next gear change up alongside Richard Hammonds sly bass lines shifting the context of the preceding harmony and skewering what had been major chords for more colourful suspensions."
'Spice Islands' – Goldenhorse, 2002
"It's still bizarre to me how Goldenhorse opens this song with an ominous 6/8 distorted guitar riff (complete with what sounds like ancient war drums) before successfully propelling the listener so securely into it's antithesis, a completely uplifting shift to acoustic guitar and tambourine. Byrds-esque, this second introduction sets the tone for Kirsten Morrell's golden vocal phrasing coordinated expertly with wide arcs of a shimmering string section."
'Get Some Sleep' – Bic Runga, 2002
"Everyone had been waiting years to hear what new music Bic was going to deliver after the success of Drive."
"Get Some Sleep was everything I could have dreamed of experiencing and more. The song itself is a dreamy reflection on enforced momentum, the stanzas run-on intentionally, capturing glimpses of that autonomous rambling that exhaustion often fosters."
'The Spirit Racing The Mind' – Hollie Smith and Mara TK, 2011
"I'd heard Hollie in a great many different ensembles performing a wide range of songs over the years but it wasn't until I heard The Spirit Racing The Mind that I thought she'd found a perfect vehicle for her passionate and distinctive storytelling gifts. Hollie can easily convey a lot of emotional information into a single sung vowel but here, the obvious vocal payoffs are more artfully communicated, biding their time while supported by the brilliantly spliced organic sound-bites of Mara TK's production sensibilities."
'Multi-Love' – Unknown Mortal Orchestra (UMO), 2015
"Multi-Love is a mind-blowingly perfect construction from UMO that deservedly won the the 50th Annual Silver Scroll Awards (of which my wife and I were fortunate to artistic direct). As a song it spans multiple layers of musical and lyrical (narrative) tension pushing and pulling the listener through a veritable Willy Wonka factory of sonic sweetness."
'One Question' – Yoko-Zuna and Laughton Kora, 2016
"I popped my head in on some students rehearsing at the University of Auckland one afternoon because what I'd heard through the wall outside didn't sound like my pop students or the jazz students with whom we share our music school with. Turns out it was the jazzers embracing their inner desire to be pop stars."
Godfrey de Grut is a Professional Teaching Fellow at the University of Auckland's School of Music. He lectures in the Popular Music programme as well as working as a freelance musician, composer and ensemble arranger. He's also a graduate of the School of Music, having completed a Bachelor of Music in composition. His musical interests are mainly in pop, rock, jazz, electronic and experimental.
He even did a keyboard session for Kanye West one time.