Education student's lockdown experience at Healthline
Graduate Diploma in Teaching student, C.J. He, gives us a glimpse at life as an essential service worker at Healthline | Ministry of Health NZ during lockdown.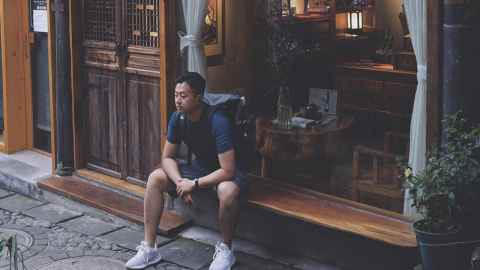 When C.J. moved to New Zealand from China to study a Graduate Diploma in Teaching last year, he didn't expect to be stuck at home studying remotely due to the Covid-19 lockdown. But the lockdown didn't discourage him from immersing himself in the community. He was determined to do his bit to fight the pandemic, and spent his lockdown working at the Ministry of Health's Healthline.
C.J. worked in the non-clinical team of Healthline, spending his time helping people over the phone. After assessing their situations on a case-by-case basis, it was C.J.'s job to decide the best next steps – whether that was getting tested for Covid-19, booking an appointment with a nurse online or, in more serious cases, contacting emergency services.
"During lockdown, it was crazy because the phone never stopped," C.J. says. "As soon as you hung up, it rang again within a few seconds. "Most people are really nice. Occasionally, people were angry, but it's just because they're scared and not sure how to handle this situation. I just kept reminding myself to show empathy and do everything I could to help them."
When you study teaching, you learn a lot about psychological theories and how people think – this has helped me to understand other people's points of view and ask meaningful questions.
Most of the time, the callers were grateful and patient, and C.J. says that's what made all his hard work worthwhile. 
"When people thank you for your work, it gives you a real sense of achievement. It's really nice to hear when someone says you've helped them, and I've definitely had some really positive feedback. Plus, my colleagues are great, and it was good to have that interaction during the lockdown."
C.J. was recognised by Healthline as one of the organisation's top achievers. The Graduate Diploma in Teaching student says the skills he's learnt through his studies came in handy when dealing with people on the phone.
"When you study teaching, you learn a lot about psychological theories and how people think – this has helped me to understand other people's points of view and ask meaningful questions."