Celebrating Bruce McLaren's legacy with the Faculty of Engineering haka
On 2 June 1970, Bruce McLaren left the pit lane for a final time. Five decades on and the McLaren name is still synonymous with everything Bruce achieved, and remains a marker of engineering excellence and Kiwi success in the highest forms of motor racing and automotive production.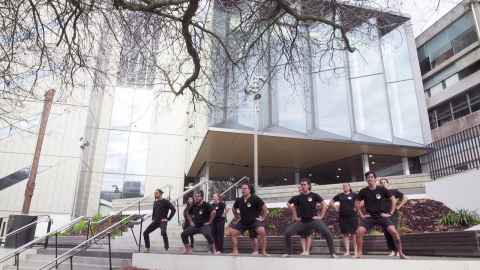 A legacy like the one Bruce left behind deserves a fitting tribute. Despite being spread across Auckland due to work from home orders and other lockdown restrictions, members of the Faculty of Engineering's haka group were able to meet and acknowledge his achievements on the 50th anniversary of his passing by performing Me Hoki Whakamuri Kia Anga Whakamua. Translating to Acknowledge the Past and Move Boldly into the Future, the haka is a reflection of The Faculty's current values and represents its culture and what its people stand for.
In his introduction to the performance, Lecturer in Civil Engineering Dr Tūmanako Fa'aui spoke of the haka's role in paying respects to those who have gone before us. He describes the haka's message as striving to take up the challenge of those who have been before us, learn from them, and move boldly into the future.
Living up to a legacy like Bruce's is a massive challenge, but one our students, staff and alumni willingly take on. Our Bruce McLaren Scholarship - which is only made possible by generous support from donors - even sees students follow directly in his footsteps, leaving our small country to head overseas to intern in the company that continues to bear his name and illustrate the impact New Zealanders can have on a much bigger world.