Learn more about Me Hoki Whakamuri Kia Anga Whakamua, its conception, and what it means to our people.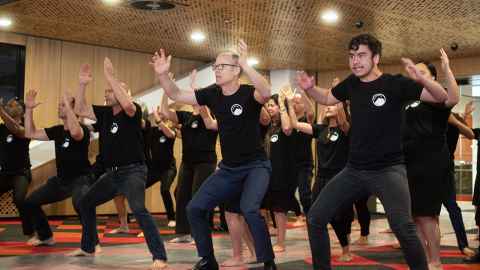 Our Engineering Haka made its debut on the dawn blessing of Te Herenga Mātai Pūkaha's new building on Grafton Road in early December 2019. Since then, our staff and students have performed it together at several key events, and will continue to do so for the foreseeable future.
Haka are a recognisable part of Aotearoa's cultural identity, symbolic of community unity and strength. Our faculty's past unfortunately featured offensive, exploitative takes on this cultural performance, with mock haka carried out annually in public space for decades following the mid-50s. A climatic moment in 1979 saw the activist group, He Taua, physically confronting engineering students during a rehearsal, in what became known as 'the Haka Party Incident'. He Taua was unjustly arrested and charged with multiple offences; the mainstream media incorrectly branded them as "gangsters".
As a community, we do not condone these acts and have chosen to take responsibility. Rather than suppressing history, we confront it by learning and showcasing change through our actions. As we continue to evolve and build a more inclusive whanau with an extensive global outlook, we recognise the importance of empathy and kindness in fostering better engineers — and better people.
Me Hoki Whakamuri Kia Anga Whakamua/Acknowledge the Past and Move Boldly into the Future is the result of a collaborative process, led by Tapeta Wehi from Te Wehi: the Haka Experience. Over a period of writing, practicing and learning, we have developed a haka that truly represents how far we've come, our values, our culture, and what we stand for as a faculty — this is a step forwards in the right direction, and we're immensely proud of it.
Me Hoki Whakamuri Kia Anga Whakamua
This short documentary chronicles our journey through the creation of Me Hoki Whakamuri Kia Anga Whakamua, from the 70s to today. You'll also get to watch our faculty haka in its entirety.
NOTE: Text in bold are spoken by the Kaitātaki/leader
TORONO TĪTAHA
PAPĀ TE WHAITITIRI
HIKOHIKO TE UIRA
HE KANAPU I TE RANGI
TE WHETU KI RARO RĀ
RŪ ANA TE WHENUA E … I ĀHAHA!
The thunder crashes, the lightning flashes
Flashes in the heaven as the earthquake shakes the land
TŪ MAI RĀ E NGĀ MATĀWAKA
WHAKAPIRI MAI RĀ, WHAKATATA MAI RĀ
KIA KOTAHI MAI RĀ TE WHAKAARO E
E TE TĪ E TE TĀ - E TE TĀ E TE TI
ARA MARANGARANGA – MĀTIKETIKE 
ME HOKI WHAKAMURI KIA ANGA WHAKAMUA E
Let's stand, proud navigators, rich and diverse nations, our identity as a faculty
Gather together, come united together
From different corners of the world
Rise Up! Ascend! Unite!
Let's acknowledge the past to move boldly into the future
KO WAI TE WHARE E TŪ NEI?
TĀNENUIARANGI – HEI WHAKAMARUMARU
TĀNENUIARANGI – TE PUNA MĀTAURANGA
TĀNENUIARANGI – I TIKI ATU KOE I NGĀ KETE O TE WĀNANGA E
Who is the house of learning standing here?
Tānenuiarangi the protector
Tānenuiarangi the receptacle of knowledge
Tānenuiarangi who ascended to the heavens to retrieve the three baskets of knowledge, the link to the ancient school of mastery
KO WAI NGĀ KURA?
TE KURA HUNA
TE KURA ĀREWA
TE KURA TAIEA
NGĀ KURA I HAWAIKI E
Who are these Schools of Graduate Excellence?
Kura Huna – a hidden treasure, an X-factor in our work
Kura Ārewa – a wow factor, that leaves the recipients in wonder and awe at the distinction
Kura Taiea – the supreme award, absolute perfection
Representing humanity, No. 8 wire mentality, teamwork!
KUA TAKOTO TE MANUKA
HĪKINA TE MANUKA
KUA TAKOTO TE MANUKA
TĒNEI TE HERENGA MĀTAI PŪKAHA
ME HOKI WHAKAMURI KIA ANGA WHAKAMUA E
Anei, ana, ina Hi! Anei, ana, ina Hi!
The challenge has been laid
Accept the challenge
Here we all stand as the Faculty of Engineering
Ready to face the many challenges ahead of us
Acknowledge the past to move boldly into the future