The Professor TDJ Leech Study Area is a space for Engineering students to complete individual or group work located on Level 3 of Building 401.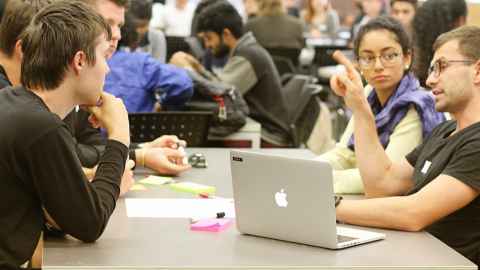 Facility use guidelines
This is a study space where personal and group study should take priority over social activities.
At times Leech spaces 1, 2 and 3 (main Leech) will be used for formal teaching. Please vacate the space when required.
Please leave the furniture in its rightful location, with the small tables in Leech 1, 2 and 3 (main Leech), the large rectangular tables in the Leech 4 (smaller area), and the cafeteria furniture in the cafeteria.
Please ensure your own and other students' safety by ensuring emergency exits remain easily accessible.
Whilst food and drink is permitted in this space, please remember to leave a tidy space for other users, using the recycling and general rubbish bins that are provided.
Please be considerate when formal teaching is taking place. Keep your noise down and avoid disruption.
Feel free to use the PC workstations, large screens, mobile whiteboards and glass wall whiteboards to aid your group work.
Teaching activity
The Leech Study Area is sometimes used for teaching purposes.
Any space not being used for teaching is available at all other times for independent study before, between and after class. This is subject to the University's policy on access and in accordance with the facility use guidelines.
The self-study area remains available for independent study and shares the space with the Part I Assistance Centre when it is running.

Who is Professor TDJ Leech?
Professor Thomas Leech, CBE, was Dean of the Faculty of Engineering from 1940 to 1949.
Professor Leech is credited for establishing a firm research culture within the Faculty and for spearheading a major expansion of the School. During World War II, he also set up a Scientific Development Organisation in Auckland which made a valuable contribution to the New Zealand war effort.
At the conclusion of the war, he orchestrated the move from the cramped 'tin sheds' in Auckland City to a more spacious site at Ardmore, where the School flourished and established itself as a major research institution. The School relocated to its current site in 1969.