Medical and health researchers awarded more than $19m
University medical and health researchers have successfully gained more than $19m in funding.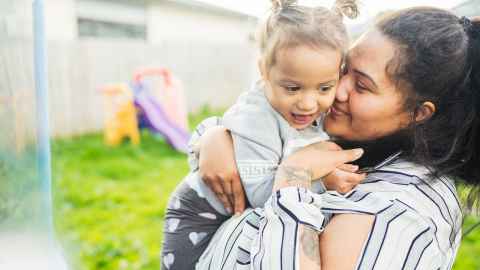 A new way to tackle the rheumatic fever epidemic, addressing sudden infant death syndrome in Pacific communities and a new model to treat long-sightedness and cataracts are among the research initiatives at the University of Auckland's Faculty of Medical and Health Sciences that have received more than $19m in funding from the Health Research Council today.
The grants will enable teams across a breadth of disciplines at the faculty to work on ground-breaking research to support the health and well-being of New Zealanders.
Research summaries
Programme
Professor Paul Donaldson
Regulation of lens water transport: A strategy to treat presbyopia and cataract
$4,936,997.70
Globally, 2.1 billion people are presbyopic, and 35 million are visually impaired due to cataract. With a rapidly aging, and increasingly diabetic population, the extent of this burden will rise and increase the cost to the health system. Professor Donaldson's group has confirmed the existence of a lens microcirculation system. By studying how water transport is regulated in the lens, the researchers will develop novel anti-oxidant based approaches to maintain the optical properties and transparency of the lens, and prevent the onset of presbyopia and cataract.
Projects
Associate Professor Vili Nosa
A study of Samoan, Tongan, Cook Island Māori, and Niuean infant-care practices
$1,155,335.10
Inequalities in Sudden Unexpected Death in Infancy (SUDI) in New Zealand are stark. Incidence of SUDI amongst Pacific communities has not declined since 2002. Success in reducing SUDI incidence amongst indigenous populations has been achieved by using a cultural concept to maintain the important physical intimacy between mother and baby.
Quantitative data (Growing Up in New Zealand) will be used to understand the context for infant care practices for the majority proportion of Samoan, Tongan, Cook Islands Māori, and Niuean families. We will conduct interviews with Samoan, Tongan, Cook Islands Māori, and Niuean mothers from Auckland, Cook Islands and Niue. We will use a general inductive method.
Our focus will be infant care practices and trusted sources of advice about infant care. Our research seeks a deeper understanding of specific Samoan, Tongan, Cook Island Māori and Niuean concepts useful for a culturally appropriate intervention or policy change.

Professor Laura Bennet
Circadian patterns of fetal heart rate predict impaired fetal oxygenation
$1,199,998.30
Poor growth before birth is associated with a high risk of death and of brain injury. Professor Bennet's team's studies suggest that abnormal circadian patterns in the fetal heart rate recordings are associated with poor growth. The project will run clinical and pre-clinical studies to examine fetal circadian patterns in normal and growth restricted pregnancies to determine how and when circadian patterns are related to poor placental oxygen levels. These studies will test for the first time how circadian rhythms can be used to identify high-risk babies with very low oxygen levels before birth.
 
Professor Ian Bissett
Randomised Trial of a Novel Chyme Reinfusion Device for Temporary Ileostomies
$1,433,127.05
New Zealand has the world's highest rates of colorectal cancer, and it is our second leading cause of cancer death. The formation of a "temporary ileostomy" is a cornerstone of colorectal cancer care, particularly for rectal cancer. This involves dividing the small bowel, and bringing the ends up to the skin, so the gut contents flow into a bag.
Although these ileostomies are only needed for two weeks (protecting a surgical join while healing), patients are stuck with them for much longer: 4.5 months on average. During this time patients are subject to major risks due to their ileostomy of: dehydration, kidney problems, and re-admission to hospital, missed doses of chemotherapy, infections, and worse long-term bowel function.
The team has invented a novel device which can overcome these problems and will carry out a trial to. It is a pump that reinfuses the stoma output contents safely back into the large bowel. This trial will evaluate the new pump device.

Associate Professor Mark Bolland
Zoledronic acid and fracture prevention in early post-menopausal women
$1,192,556.85
Fractures are an important health issue, occurring in >50% of older women. Although low bone density is a strong risk factor for fracture, 80% of fractures occur in women without low bone density. We are two-thirds of the way through a 10-year clinical trial in 1054 women investigating whether zoledronate, an effective treatment for osteoporosis, prevents bone loss and spinal fractures in early post-menopausal women with normal or only mildly low bone density when given very infrequently.
The first participants completed 7 years of follow-up in June 2019. During the trial, zoledronate or an inactive agent (placebo) is administered every 5 years. The main outcomes are occurrence of new spinal fractures and changes in bone density.
If the treatment is effective, the study will offer a more convenient approach to preventing fractures, potentially preventing a much higher proportion of fractures than with current strategies.

Dr Justin Dean
Treatment of GABAergic interneuron dysfunction in pre-term brain injury,
$1,186,646.95
Exposure to reduced oxygen and blood flow (hypoxia-ischemia) to the brain in early life is a known trigger for a range of neurodevelopmental disorders, which show common impairments in growth and connectivity of neurons in the brain. We have discovered a new role for the proteins and sugars that surround neurons (the extracellular matrix) in controlling normal brain development.
This study will examine, for the first time, whether abnormal breakdown of a key extracellular matrix sugar, hyaluronan, causes impaired neuron development following early-life hypoxia-ischemia, and whether pharmacological blockade of this abnormal hyaluronan breakdown can promote normal brain development.
Dr Nicole Moreland
Understanding the role of IgG3 in acute Rheumatic Fever
$1,187,148.95
Rheumatic fever (RF) is one of New Zealand's starkest examples of health inequity, with Māori and Pacific children 20-40 times more likely than all other NZ children to develop the disease. RF is triggered by Streptococcus A (StrepA) infections and can develop into chronic rheumatic heart disease (RHD). There is currently a complete lack of treatment options available to RF patients to halt cardiac damage and progression to RHD.
Improved understanding of RF disease mechanisms is urgently needed to determine pathways that could be targeted by existing drugs to reduce progression. We observed a marked elevation of a particular antibody type (subclass IgG3) in RF patients and will use advanced laboratory methods to map the immune mechanisms associated with this increase. This will identify intervention pathways that maybe interrupted by immune modulating drugs already in clinical use for other diseases with the potential to stop RF patients developing chronic RHD.
Professor Julian Paton
Novel potential anti-arrhythmic target
$1,171,620.25
Heartbeat irregularities are often lethal and can be caused by a group of overactive nerve cells (called stellate) located inside the chest. Removal of stellate cells in humans has been shown to stop life-threatening irregular heartbeats but this involves complex surgery, which is potentially life threatening itself.
In both humans with heart disease and rats with susceptibility to heartbeat irregularity, we discovered a novel drug target or 'receptor' on these stellate cells which when blocked stops irregular heart beating.
We propose to identify the precise makeup of this receptor (to refine drug targeting) and the type of stellate cell it resides on. Importantly, we will assess how this receptor makes the stellate cells overactive. In rats we will use a novel drug to block this receptor to see if this safeguards against irregular heart beating. These studies could be translated to humans as a novel treatment for heartbeat irregularities.
Dr Raewyn Poulsen
Turning off the cellular energy supply to treat osteoarthritis
$1,180,501.60
Osteoarthritis is a painful, debilitating disease affecting over 320,000 New Zealanders. It is the most common cause of disability in adults worldwide yet there are currently no drug treatments to cure osteoarthritis or slow its progression. Osteoarthritis is characterised by loss of the cartilage cushion within joints. The cells which normally maintain cartilage become hyperactive in osteoarthritis, aggressively degrading cartilage tissue. This hyperactivity comes with a cost. Osteoarthritic cells must generate more energy than healthy cells.
We propose that limiting the fuel supply to osteoarthritic cells may be a means of limiting their activity and therefore treating disease. Interestingly high blood sugar is a risk factor for osteoarthritis. This may be through increasing the fuel supply to osteoarthritic cells. We will determine how osteoarthritic cells generate energy, whether high glucose aids this process and whether drugs used to treat metabolic diseases e.g. diabetes may be effective for treating osteoarthritis.
Dr Frederik Pruijn
Enabling clinical development of a novel hypoxia-targeted anti-cancer agent
$1,199,945.55
The presence of low-oxygen zones (hypoxia) is a hallmark of many tumours, which confers negative prognosis and poor treatment outcomes after surgery, chemotherapy, and radiotherapy. One way to overcome this therapeutic challenge is via hypoxia-activated prodrugs (HAPs).
We have developed a novel clinical candidate HAP called S-benomycin, which is highly active in many preclinical models of cancer, including of head and neck squamous cell carcinoma (HNSCC). To prepare S-benomycin for clinical trials we will achieve three aims: an inter-species comparison of drug metabolism to inform future drug safety studies; a survey of anti-tumour efficacy across a broad panel of HNSCC models; and development of a new imaging modality, oxygen-enhanced magnetic resonance imaging (OE-MRI), as a companion diagnostic.
We aim to use these data to take S-benomycin into clinical trials in New Zealand in order to improve treatment outcomes in HNSCC patients.
Dr Rohit Ramchandra
Respiratory modulated pacing to improve outcomes in heart failure
$1,191,072.60
A third of people diagnosed with heart failure die within the first year. The survivors have severely impaired quality of life because even day-to-day menial activities leave them breathless and incapacitated. Current treatment options include cardiac pacemakers which help to improve the pumping capacity of the heart. However, these pacemakers lead to fixed changes in heart rate, whereas in reality heart rate is rarely static.
We have utilised a novel cardiac pace-making approach to re-introduce breathing induced heart rate variability and shown improvements in cardiac output. We will now test whether this approach improves respiratory imbalance and exercise tolerance in an ovine model of depressed heart function. This clinically-relevant research will represent a significant step in the development of novel cardiac pacing strategies.
Dr Jackie Robinson
Dying as a health and social justice issue: exploring the impact of deprivation
$1,199,999.15
International research has identified that people living in areas of deprivation are less likely to access services known to facilitate dying at home and improve overall satisfaction with end of life care. However, there is no evidence for Aotearoa, New Zealand about how deprivation influences experiences of palliative and end of life care, or determines place of death. Critically, there is no information from people living in areas of deprivation about the reasons for current patterns of health service utilisation, or their aspirations for support at the end of life.
Using a public health perspective, this mixed methods study will investigate access to and experiences of services at the end of life for people living in areas of derpivation. Improving experiences of care at the end of life for people living in areas of deprivation in Aotearoa, New Zealand will be a key health outcome for this study.
Associate Professor llva Rupenthal
Tackling the vicious circle of dry eye disease
$1,195,446.80
Dry eye disease (DED) is one of the most common, yet undertreated, ocular surface conditions, with a worldwide prevalence as high as 50 percent. While generally not considered sight-threatening, it negatively impacts quality of life in a manner similar to other chronic diseases, with recognised mental health effects. In addition to dryness, foreign body sensation and pain, blurred vision and reading difficulties are often reported.
Multifactorial in nature, DED can arise from numerous interrelated underlying pathologies leading to a vicious circle. However, current therapies often address only one issue, resulting in poor treatment outcomes. Moreover, response to therapy is often slow with adverse effects from formulation excipients such as preservatives and surfactants causing further ocular toxicity upon long-term use, ultimately worsening DED symptoms.
We will develop a preservative-free eye drop that tackles both tear film instability and inflammation without the need for further additives to break the vicious circle of DED.