Video games and mental health during Covid-19: Opportunities and precautions
Opinion: Professor Chris Bullen and Jinsong (Jimmy) Chen explore video game engagement during the Covid-19 lockdown and its effect on mental health.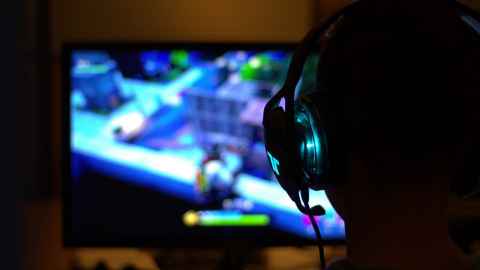 The Covid-19 lockdowns have boosted user engagement with video games around the world.
User numbers have skyrocketed. Twitch, the most popular video game streaming platform, recorded 1.49 billion gaming hours in April 2020, a massive 50% increase over March. Steam, a popular gaming platform, reached an all-time concurrent user count high with more than 20 million users during March. Fortnite, the massively popular product of Epic Games, had over 12 million concurrent views from players during an in-game concert and in April, a total of 3.2 billion hours in-game were documented.
Many gaming companies and platforms have seen their revenues increase during the pandemic. For example, Newzoo's Analytics Platform's Global Games Market Report noted that the gaming industry was forecast to generate revenues of $159.3 billion in 2020, an annual growth of +9.3%. In Australia, in the same week that social distancing rules were announced (March 16 – March 22) the sales of game consoles and games increased by 285.6% and 278.5% respectively. China is no exception. In the first quarter of 2020, the game industry in China grew 49% and created ¥55 billion revenue.
What kind of games?
There is a suggestion that the growth of gaming during the pandemic hasn't just been because people wanted more entertainment, but rather wanted more interpersonal interaction. The top five most downloaded games during the lockdown all support a multiplayer experience. In China, eight out of ten of the fastest growing video games are also online games that allow multiple players to play simultaneously.
That is, these games aren't simply about individuals escaping the real world, but about going (virtually) somewhere together.
How people feel during Covid-19
Self-Determination Theory (SDT) posits three basic psychological needs for people's mental wellbeing: autonomy ( feeling able to make choices, act in accordance with individual values, and pursue meaningful goals); competence (feeling effective and capable of overcoming problems); and relatedness (feeling connected to others). Satisfying these basic psychological needs leads to greater well-being and motivation. Conversely, when these needs are frustrated (such as by home confinement and 'social distancing' of lockdown and intensification of passive surveillance) there may be negative effects.
In lockdown, individuals may feel their deep-seated need to protect self and their family is hindered, leading to fear, anxiety and distress, which may give rise to insomnia, irritability and even aggression. A sense of competence might have also been impacted by missing out on complements from problem-solving at work and feeling powerless about the pandemic situation. The almost complete cessation of face-to-face connections outside of one's domestic 'bubble' has challenged the sense of relatedness.
Connecting with others normally helps individuals to regulate their emotions, cope with stress, and remain resilient, whereas loneliness and social isolation exacerbate the burden of stress, and can lead to adverse mental, cardiovascular and immune health effects. Although there are many alternative ways of satisfying these needs through technology, such as using webcams and microphones to have online interactions, it is not the same as face-to-face interactions and is less entertaining.

Why playing games might help
Video games have potential to satisfy these psychological needs during the Covid-19 crisis. Research shows games help facilitate a sense of autonomy by giving players a sense of being free to make choices and, depending on the game, provide a meaningful narrative for completing tasks. Well-designed games facilitate a feeling of competence by presenting challenges that are neither too hard or too easy to achieve and imbue a sense of reward by finishing designed tasks. Players also get a sense of progress and achievability while they playing a game.
Games also offer a sense of relatedness by playing with friends, or even connecting with a stranger online (with whom you may be battling a common enemy or completing a same task together). Research has established a link between loneliness with premature death and an increased risk of disease in older people. Gamers can also feel a sense of relatedness with the virtual characters in the game and with the game world itself. Identifying closely with a character and their situation motivates players to help the character, and, when the character succeeds in achieving tasks, enhances their sense of competence.
Some games have been developed specifically to promote mental wellbeing during the pandemic. For example, a gamed called "Shadow's Edge" aimed to help players cope with isolation and fear, using empirical and theory-based foundations like narrative therapy and artistic expression to enable players to save a city destroyed by a storm. Such games are known as "functional games".
At another level of gaming, the World Health Organization (WHO) and the video gaming industry collaborated on a promotional campaign (#PlayApartTogether), that encourages physical distancing by bringing special events, exclusives, activities, rewards, and inspiration to some of the most popular games in the world.
How gaming can harm
In 2018, Gaming disorder was included in the 11th Revision of the International Classification of Diseases (ICD-11). It refers to a pattern of gaming behaviour ("digital-gaming" or "video-gaming") characterised by loss of control over gaming, increasing priority given to gaming over other activities to the extent that gaming takes precedence over other interests and daily activities, and continuation or escalation of gaming despite the occurrence of negative consequences. Thus, while video games can have psychological benefits they can also lead to harms.
Parents need to know how to help make sure their children's gaming does not become harmful. They should establish ground rules like "gaming should occur only after your child completes their other responsibilities for the day", "offer positive reinforcement for non-gaming activities", and "control gaming time by one or two (maximum) hours a day". Research has shown that video games can strengthen parent-child and family relationships when used in the right contexts.
For adult video game players, there is no universal standard on when gaming is "too much"; it may be less to do with hours of play and more to do with being aware of one's susceptibility to video game addiction. While only 1-3% of adult players (age 18 and above) are at risk of addiction to video gaming, they should be aware of the potential of developing gaming disorder and know that healthy eating, minimising alcohol consumption, exercising, and getting sufficient sleep are even more important than playing video games.
In summary, playing video games may be a good way to meet basic psychological needs. People who are players should do so in moderation and look after their family's health and wellbeing. People new to gaming could think about it as another tool to keep healthy - the range of digital games is vast and there are many online guides for beginners wanting to start.
Suggestions for game providers
Game providers can help prevent players from developing gaming disorder and maximise the wellbeing value of a game by following anti-addiction guidelines for players aged under 18, display information in the opening pages of games on the potential of addiction to gaming as well as potential for harms to physical and mental health, providing links or in-game pages for players to do self-checks on video game addiction.
In conclusion, video games are a popular medium with potential to help people cope psychologically with many of the adverse aspects of the current Covid-19 crisis. Game providers can take steps to protect players' health and players should be aware of the need for moderation to keep themselves safe and healthy.
Chris Bullen is a Professor in the School of Population Health and the Director of the National Institute of health Innovation (NIHI).
Jinsong (Jimmy) Chen is a PhD candidate in the School of Population Health, Faculty of Medical and Health Sciences.

This article reflects the opinion of the authors and not necessarily the views of the University of Auckland.
Used with permission from Tencent, ' 疫情之下,打打游戏解解压' and NIHI, 'Tencent Opinion Piece on video games and mental health'.


Media queries
Gilbert Wong | Research Communications Manager
DDI: +64 9 923 3257
Email: gilbert.wong@auckland.ac.nz