Symbol of unity unveiled to remember Christchurch mosque victims
The unveiling of Ngā Roimata o Ranginui at the University of Auckland reflects a commitment to supporting Muslim staff and students and pays tribute to lives lost.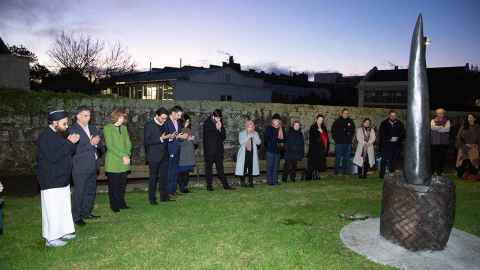 A moving dawn blessing took place on 20 July on the lawn behind Alfred Nathan House near AskAuckland. The occasion was the unveiling of Ngā Roimata o Ranginui, a sculptural collaboration between artists Ngahina Hohaia and Anton Forde.

The sculpture comprises a roimata (tear drop) with carved pounamu raukura (feathers), sitting in a basalt kete. It was created as a symbol of peace, unity and remembrance for the 51 lives lost and the 40 injured in the Christchurch mosque attacks of 15 March, 2019.
The unveiling, held on the last day of Matariki, was attended by the artists along with Vice-Chancellor Professor Dawn Freshwater, Kaiarataki Michael Steedman, Campus Life and representatives of the University Muslim community to whom the memorial was gifted.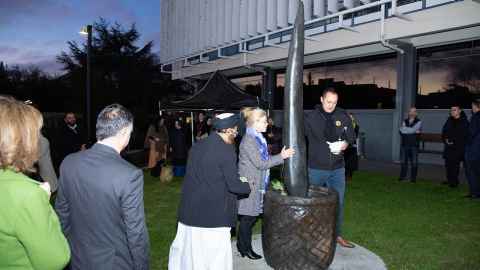 The University's Muslim chaplain, Shahela Qureshi, says as well as marking the lives lost, "the monument is a reminder that from that tragedy we saw a huge outpouring of love and kindness from all over the country. It's a physical manifestation of that love and kindness, especially coming from the Māori community who have experienced similar tragedies in the past".

She says the University has provided pastoral and spiritual support to staff and students since the attack, including a remembrance service in 2019, and commemoration in 2020.
"But there's still a lot of work to be done to confirm our commitment to working towards a safer Aotearoa, and to dedicate ourselves to strengthening the bonds of love, understanding and respect for each other, with all our similarities and our differences."