Period poverty eased by donations to student well-being fund
Free sanitary products are available at the University of Auckland in Semester Two, funded by donations from the 'Staff for Students: Well-being Fund'.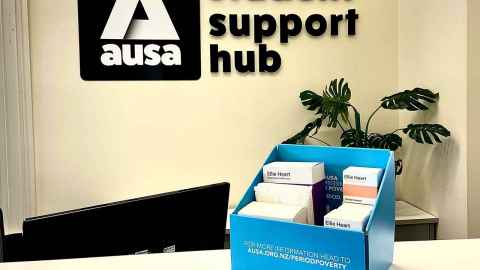 Period poverty perpetuates inequity and cycles of disadvantage, particularly for our poorest communities and for Māori and Pasifika students.
This issue of period poverty has been highlighted in the news and research and has not gone unnoticed by staff at the University of Auckland. 
Period poverty, when people are unable to access menstrual items due to the cost, has been selected as one of the initiatives to receive funding after University of Auckland staff donated $25,000 to the 'Staff for Students: Well-being Fund'. The fund was established in 2019 specifically to support students, either through staff providing a one-off donation or a regular salary deduction.
As a result of the fund-raising, sanitary products are being made available in partnership with the Auckland University Students' Association (AUSA) and piloted in various locations. These include first-year halls of residence, AUSA Student Support Hub and the University Health and Counselling Service. Products will initially be available at reception points for students to collect, and students won't have to interact with staff to obtain them. 
"The pandemic has been a highly stressful time for our students, with many experiencing unexpected financial difficulties," says Anne-Marie Parsons, associate director of Student Well-being and Engagement.

"Having access to menstrual products is a pragmatic way we can support the well-being and health of students to help them thrive."

Meanwhile, the Government is allocating $2.2 million to provide free sanitary products in schools following an in-depth study that showed students have been missing school because of period poverty.
The Youth19 survey, co-led by Associate Professor Terryann Clark from the University of Auckland and Dr Terry Fleming from Victoria University of Wellington, surveyed 7,890 young people about their health and well-being, including 4,000 on their experiences of period poverty. It found a lack of access to menstrual products leads to embarrassment and shame, skipping school, work and other opportunities, and can cause infections and health problems.

Terryann, who is based in the School of Nursing, says New Zealand previously had little data on the problem.
"Period poverty perpetuates inequity and cycles of disadvantage, particularly for our poorest communities and for Māori and Pasifika students," she says. "Nineteen percent of Māori youth have experienced period poverty, and 16  percent missed school because they couldn't afford menstrual products."

The research showed 12.5 percent of young people who had their first period missed out on menstrual items due to cost and 7.5 percent missed school because of it. The number of students missing school rose to 20 percent in lower-income areas.

The Government roll-out of free sanitary products was due to begin in 15 Waikato schools this term. From 2021 all state and state-integrated schools will be able to opt in to the scheme, although Terryann would like the national roll-out for schools to happen sooner.
"We also need to think about how it's implemented, so it doesn't shame those who need it. One of the concerns is that people are dismissive of the issue of period poverty and blame and shame people who can't afford the basics.

"Young people and their families should never have to choose between food, rent, power, transport expenses and period products. Living with dignity means all people should have access to these necessities of life; they are not a luxury."
Period poverty is one of many health issues covered in the Youth19 Rangatahi Smart Survey 
Its findings over the past 20 years will be released on 13 August (1-2pm) via a webinar, and face-to-face at the Epsom Campus on the same day (4-6pm) with a Q & A with Associate Professor Terryann Clark.