Stick insects steal show at Three Minute Thesis Final
Thirteen winning postgraduates from across the University took to the stage to tell the story of their research in under three minutes each at the Three Minute Thesis 2020 Final.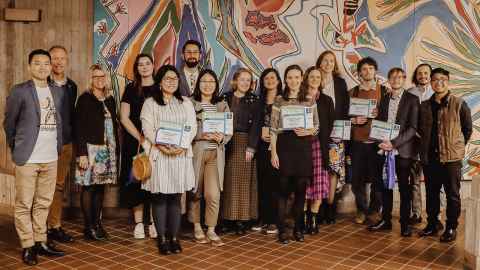 Spare seats quickly became a rare commodity in the packed lecture theatre as the 170-strong audience enjoyed insights into the fascinating research being conducted by University of Auckland masters research students and doctoral candidates. The topics showcased the breadth of the University's graduate research and covered such diverse topics as stem cells, stick insects and subtitles. Anticipation was high throughout the evening, buoyed by Master of Ceremonies Dr Caroline Daley and tense, down-to-the-second performances that kept the crowd on the edges of their seats.
Judges Dr Sam Elworthy (Auckland University Press Director), Professor Jennifer Curtin (Politics and International Relations) and PhD candidate Yi-Han Wu (2019 Doctoral and People's Choice Winner) all noted the outstanding quality of the presentations in this year's competition.  
The calibre of all the finalists was exceptionally high... I loved hearing about all the amazing research everyone is working on, and in such diverse areas.
In the Masters category we heard about village style parenting in an urban context, sustainable energy solutions and healthcare inequities in appendicitis treatment and recovery. The School of Environment's Angus Dowell delivered an engaging overview of his research into regenerative economic initiatives, which won him Masters Runner-Up, and Erin Thomas from Development Studies took home Masters Winner for a compelling insight into her research on mapping gender-based violence in Niue using family trees. Erin will represent the University at the Inter-University 3MT® Final in September.
The fiercely-contested Doctoral category delighted the audience with presentations on English subtitles in Chinese film, financial literacy in video games, memory in the brain and heart, and the confident communication of 1-year old babies. But Biological Science candidates won the evening, taking both awards in the category: James Hucklesby won Doctoral Runner-Up with a sparkling delivery of his work around brain barriers and stroke, but it was a delightful presentation on stick insect camouflage that won Morgane Merien the title of Doctoral Winner.
Morgane loved the competition's electric atmosphere and said she valued the opportunity to hear about the research of the other competitors:
"Last night's final was incredible: a lot of fun and very high in energy - and nerves! The calibre of all the finalists was exceptionally high, and I was shocked to win! I loved hearing about all the amazing research everyone is working on, and in such diverse areas."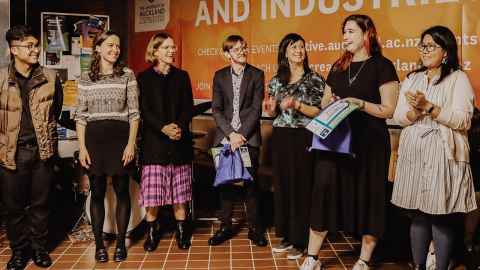 Morgane hopes to repeat her win when she represents the University in the U21 Virtual Three Minute Thesis competition in September and the Asia Pacific Final in October:
"I'm honoured to be recognised for my research and communication and hope I represent the University well in the U21 Virtual and Asia-Pacific Finals"
The title of People's Choice went to ABI doctoral candidate Laura Pedofsky for an interactive and truly entertaining talk about female incontinence and the device she is working on to help women recover.
Yi-Han Wu spoke of nostalgia, nerves and passing on the mantle of People's Choice to a fellow ABI candidate:
"It was an honour to have been invited back this year as a judge. There was a nostalgic feeling of last year's competition night and the memory of containing my nerves before my performance. The presentations were outstanding and it came right down to the wire – literally, for several contestants who finished right on three minutes! Awarding my successor, Laura, as People's Choice deeply resonated with me: I felt like a father passing on an honourable legacy."
You can find a full list of the evening's participants at 2020 winners.
Three Minute Thesis was originally developed by the University of Queensland with the aim of developing doctoral candidates' ability to communicate their research to a general audience. The competition now takes place in over 900 universities across the world. Participants are challenged to condense their entire research project into a three-minute presentation intended for a general audience and supported by only a single, static slide.