Dedicated space opens for Graduate School of Engineering community
For the first time, students completing a taught postgraduate qualification will have access to their own unique space as a community starts to form around the Graduate School of Engineering (GSE).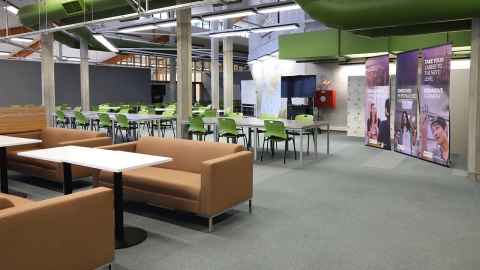 On Wednesday 22 July, the space was officially opened and blessed in a ceremony attended by staff and students. It boasts a range of group and solo study areas, along with social spaces for students to take a break and catch up with one another. Speaking on behalf of the faculty, Acting Dean Professor Gerard Rowe reinforced the role that spaces like this have in creating a place of belonging for students.
Professor Rowe also noted how engineering is as diverse as the people who do it, and that the important social aspects of learning on campus that were missing during lockdown would now be an important part of building a community around the GSE.
The theme of community was echoed by Associate Dean of Postgraduate (Taught) Dr Garry Miller, who confessed he was feeling moved and a little bit emotional by the "wonderful" event. The vision for the GSE was something that had been growing over a long time, and this dedicated space is an important step in its growth. Dr Miller hopes the space is something the students will make into their home over time, whether they're looking for somewhere to catch up with each other or to get work done and think deeply.
He also spoke of engineering as a "noble profession" where people can make a difference and work towards making positive changes in society. A dedicated area for students in taught postgraduate programmes gives them the opportunity to work collaboratively in teams as they would out in the workforce. Dr Miller wants the space to be somewhere students can come together and solve complex problems as they progress through their respective programmes.
Both Professor Rowe and Dr Miller mentioned the efforts of the Facilities and Property Services teams which were involved in the creation of the space, a lot of which happened during later stages of lockdown. Dr Miller also acknowledged the contribution of the faculty's Senior Leadership team in supporting the ongoing development of the GSE, and the team who ensured the event ran smoothly.