Bringing te ao Māori to the classics: teaching honour for Maxine Lewis
A flair for bringing the Greco-Roman world to life and creating a strong sense of community and relevance in her classes has earned Dr Maxine Lewis from the Faculty of Arts top teaching honours.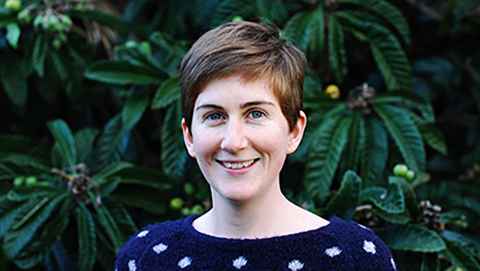 Dr Lewis, whose course topics range from 'sex and power in Greek and Roman literature' to classical mythology and Latin language and literary texts, has won a 2020 National Tertiary Teaching Excellence Award, one of only nine awarded nationwide.
Head of the School of Humanities, Associate Professor Malcolm Campbell, says Dr Lewis's award is extremely well deserved.
"Maxine is a dedicated teacher who works hard to ensure her classroom is one in which students succeed, so it's wonderful to see her efforts recognised with this award."
Dr Lewis says her approach is to be empathetic to students' needs and individual learning interests.
"I'm focused on student wellbeing and students' growth quite holistically, and I'm very passionate about my subjects which bubbles over into how I interact with them," she says.
And rather than pushing a broad narrative of why the Greek and Roman past is relevant, she tries to help each student identify how they can connect to material from these ancient places.
"With teaching languages like Latin or ancient Greek, for example, I try to bring them to life as much as possible and to excite students about the whole range of the language-learning experience. I draw on modern-language teaching techniques which focus on listening and speaking as well as writing and reading."
I really enjoy it when students bring their own perspective to a Greek or Roman text that I've known for years, and they have a new angle on it that changes my understanding.
She aims to make each class engaging, memorable and accessible to all, and to keep students eager to learn.
"I try to balance discussion of Roman history and Latin literature with Latin conversation about our daily lives and I mime and perform vocabulary to communicate meaning. I also get students to create stories, and when the weather's good, I lead excursions where we communicate as much as possible in Latin, about Latin."
She says one of the best things about teaching is building relationships with students and having them offer a new way to look at things.
"I really enjoy it when students bring their own perspective to a Greek or Roman text that I've known for years, and they have a new angle on it that changes my understanding. And I love the moment when students just 'click' and a new skill they've been working on suddenly makes sense to them."
She likes challenging the view that these subjects are traditional or exclusively Western.
"I value seeing students learn how seemingly traditional subjects, such as Latin or classical studies, have also been (and still are) sites of political dissent and cultural change.
"As much as possible, I try to combine canonical sources with wider perspectives. Right now for instance, I'm teaching a Latin course on Ovid and at the end of the course I'll introduce the students to the first African-American woman to write poetry in Latin, as we look at her responses to Ovid's work."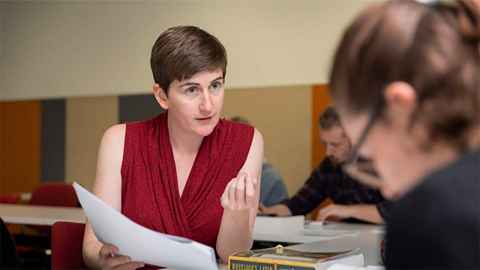 An area of personal growth has been participating in the Ako Arts programme within the faculty, which has focused on bringing Māori knowledge and ways of viewing the world to both subject content and classroom practices.
"I learned a huge amount in the Ako Arts programme thanks to my kaiako, Kaita Sem, and programme organisers, including Dr Hirini Kaa," she says.
Learning about te ao Māori and working on techniques to let students share their cultural heritage and perspectives helped her to better understand where some of her students, including Māori students, were coming from.
"I think that's valuable in its own right, and it also led me to view the Greek and Roman material anew through my students' eyes. In terms of my language teaching practices, the Ako Arts framework helped me embrace some exciting and personally challenging techniques."
Incorporating Ako values and practices is still a work in progress, says Dr Lewis, but something she plans to include in all her teaching.
She's keen to finish with a plug for her Latin-speaking club, which she started a couple of years ago with colleague Dr Christina Robertson.
"Our aim was to build an inclusive community among everyone in the university who is interested in Latin, at any level, through games, conversation, and most of all, dulciola (sweet treats!). If you've ever wanted to hear or learn some Latin, or if you know some Latin and would like to connect with us, please contact me on: maxine.lewis@auckland.ac.nz and join our Latin club."