Vote Compass: find out how your views align with party policies
Vote Compass, an interactive tool that gives voters a clear idea of how their views line up with our political parties, is back ahead of the 2020 election.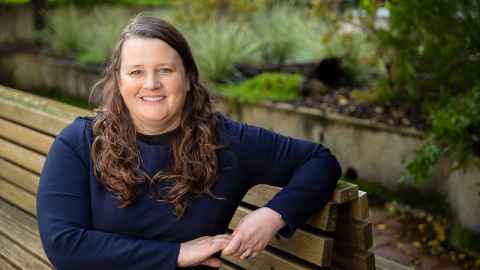 University of Auckland political scientist Associate Professor Jennifer Lees-Marshment and her team are academic advisers for the online tool which has proved highly popular, attracting hundreds of thousands of users in the 2014 and 2017 elections.
Voters can now go on the 1 News website and answer questions about issues like employment, housing, education, the environment or the economy, and find our how closely political parties align with their views. Vote Compass also offers extra information on party policy positions.
The data will be collated anonymously, like a gigantic poll with a sample size of several hundred thousand, to provide deep insight into what New Zealanders think about issues that matter.
Dr Lees-Marshment says her team, which also includes Dr Danny Osborne in Psychology and colleagues at Victoria University, has to be agile and adaptable as the issues are not always predictable.
"Labour obviously cares about social infrastructure issues for example, National is going to be talking about business, but even then you don't know how that's going to go because there's a sense we can't return to business as usual since Covid, so there's a lot of change."
It's all about connecting the fast-paced, instant medium of TV and online with the slower paced but expert academic world to create a better service for the public.
Of course the delayed election date, now 17 October, has also made this election more challenging for parties, media and political analysts, she says.
"The key thing about political marketing is that parties need to understand and respond to what the public think, but of course what the public think is in flux, so because everything has changed, the entire world has changed, that sense of security has got away from us, which makes policy making, and marketing those policies, that much harder."
She sees one of the big advantages of Vote Compass is that it directly engages the public in thinking about policy and politics and gets the voices of voters onto the agenda.
"As an academic, you don't often get very direct links to the public. You hope the books you write have an impact for example, but Vote Compass is much better in that respect because we get to use our academic skills to create a tool that the public can use straight away once it's launched."
And it's also good for democracy, she believes.
"It gets people thinking about policies not just personalities, so it's really valuable and what's also wonderful is working with TVNZ, because I think academics need to engage more with people outside the University so we have a stronger link with our community."
A non-profit initiative, Vote Compass was initially created and managed by Canadian political scientists and run in conjunction with a media sponsor and academics based in whatever country is using it. It ran successfully in the 2013, 2016 and 2019 Australian elections in collaboration with the Australian Broadcasting Corporation (ABC) and the 2011, 2015 and 2019 Canadian federal elections with the Canadian Broadcasting Corporation (CBC).

Young Voters Debate
As with 2017, Dr Lees-Marshment is also involved in organising a live-streamed TVNZ event, the Young Voters Debate, which lockdown levels not withstanding, is set to go ahead on 28 September in the Fale Pasifika on City Campus.
Hosted by TVNZ political reporters Jack Tame and Maiki Sherman, it will feature Auckland Central Green Party candidate Chlöe Swarbrick and Brooke van Velden, the Act Party's candidate for Wellington Central, both of whom studied at the University of Auckland and completed a Bachelor of Arts, among other candidates.
With the election date now delayed a month, young first-time voters who would have had to wait three more years can now quickly register to have their votes count, says Dr Lees-Marshment.
"We're also thinking about other ways we can use the Vote Compass data in programmes like Q & A," she says.
"So it's all about connecting the fast-paced, instant medium of TV and online with the slower paced but expert academic world to create a better service for the public."