Three architects from School of Architecture get four NZIA gongs
Three academics from the School of Architecture and Planning, University of Auckland, have been recognised in the recently announced Te Kāhui Whaihanga New Zealand Institute of Architects (NZIA) 2020 Branch Awards.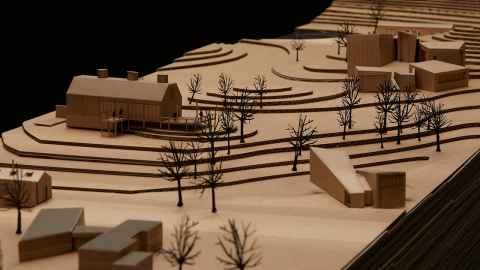 Andrew Barrie, Sarosh Mulla and Aaron Paterson were recognised for projects that include a recyclable architecture exhibition, an ode to the joy of watching cricket, an educational facility on an eco-sanctuary in Gisborne, and a contemporary holiday 'crib' at Wanaka.
Professor Andrew Barrie, practising as Andrew Barrie Lab, was recognised for his exhibition In Context: RTA Studio. Curated by Dr Barrie and built by students from the University, the exhibition showcased 20 years of award-winning architecture from the architecture practice founded by Richard Naish – himself a University of Auckland alumnus – in 1999.
Featuring models of numerous buildings made out of thick paper, the exhibition was laid out on a contoured surface of corrugated cardboard to depict the coastal, rural, suburban and urban zones where RTA Studio's buildings are located.

According to the Auckland Architecture Awards jury: "This was a carefully considered temporary installation precisely put together by a dedicated team.

"Thorough planning was given to every element and craftsmanship was shown in every component, including the impressive model base, 35 perfectly made projects, and a delicate paper ceiling."
Moreover: "The life cycle of every exhibition component was well thought-out, resulting in only a handful of residual items after the project was disassembled."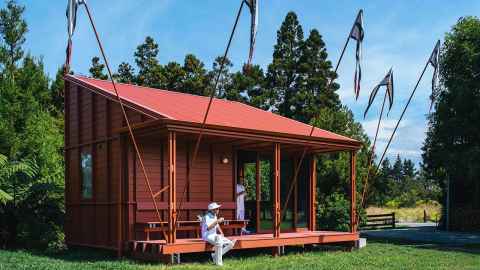 Sarosh Mulla and Aaron Paterson, who are lecturers at the School while practicing as PAC Studio, received three awards for buildings around New Zealand: an Auckland Architecture Award for Point Wells Cricket Club, a Gisborne/Hawkes Bay Architecture Award for the Longbush Ecosanctuary Welcome Shelter (an educational hub for a sanctuary established by Jeremy and Dame Anne Salmond, which came out of Dr Mulla's PhD project,) and a Southern Architecture Award for Wanaka Crib.
The latter project, which also won the Best Colour and Detail Award in this year's Home of the Year Awards, was described by the NZIA jury as "vernacular architecture wrought fresh, with a keen eye and alert consciousness".

Of the Point Wells Cricket Club, the judges said: "It would be hard not to be bowled over by this exuberant folly at the bottom of a private garden.

"Ostensibly the Point Wells cricket clubrooms, this nostalgically referenced elegant shed is a real labour of love. The architects have taken the brief for a small shelter to hold a beer fridge, and created at long on (or, depending at which end the batter is on strike, third man) an ode to the joy of watching cricket … all designed to delight and amuse." 
NZIA Local Awards is a peer-reviewed programme run in in each of the NZIA's 8 constituent branches, which together cover the entire country. All local architecture award-winners are considered for shortlisting for the next awards tier, the New Zealand Architecture Awards, which will be announced in the next fortnight. The national Award-winners will be announced in early November.