Felicity Barnes: the best is history
Felicity Barnes knows how hard her colleagues in history work and the value of their research. She's behind a new $500,000 History Innovation Fund she hopes can help.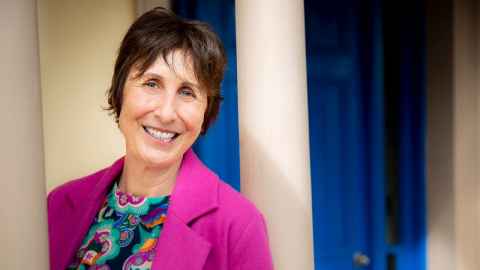 After a year away from teaching to focus on research and her health, Dr Felicity Barnes was excited to get back into the classroom and to be mingling with colleagues.

"I've really enjoyed being back teaching. I've been concentrating on my research for the past six months, so it's been good to be actively engaged with the students face-to-face."

What happened next, a few days after this conversation, was a closed campus and a move to online teaching, but not before Felicity had shared some good news with her history colleagues in the Faculty of Arts.
She and husband Michael Whitehead have donated $500,000 to set up the History Innovation Fund, which will initially support a postdoctoral fellow in New Zealand history for 2021 as well as numerous other initiatives to improve research outputs in New Zealand history.
If there's a national problem to be written about, then let's turn to a historian. Historians can tell us a lot about past pandemics.
Having recently sold two companies, Felicity says the couple was in a position to support learning, with a focus on Felicity's passion, history.

"This was something I wanted to do, but Michael was really on board with it as an idea. Both of us are alumni and we're both products of the old-fashioned free education system. Michael's training in computer science and commerce was directly relevant to what he did next – ultimately co-founding data analytics company WhereScape and services firm NOW Consulting. I also worked in business before returning to academia.

"What I saw upon my return was how hard academics work and how limited their resources are, compared to what you might expect if you're working in business."

She says academics spend years becoming specialists in their subjects, through teaching and research, but often find it tough to gain funding for what they need.

"It's abundantly clear that the whole sector is not supported to the level that it should be by government funding."

At a recent Town Hall gathering with staff, Vice-Chancellor Professor Dawn Freshwater explained that the unfortunate issue is that no country has its funding model right for tertiary institutions.

"That's true," says Felicity. "But there are more generous models than ours, even Australia.

Anyway, it just became clear to me that this is an area where we could make a difference.

"I wanted to support the staff. Coming from the teaching side, you understand where the gaps might be and where a little bit of money might make a lot of difference."

The History Innovation Fund will run over five years and will support world-class research outputs. One of the fund's first initiatives will be recruiting a postdoctoral fellow, initially in New Zealand history, for 2021. It will also support research grants, primarily for New Zealand history and history generally, as well as in related subjects such as art history and ancient history.

"It aligns with the University's goals more generally, and it's an opportunity to see how a little money might make a difference.

"We would imagine it will pay for at least five postdoctoral fellows for one academic year each. Alongside that, we want to help out with other staff initiatives that will help produce research, things that fall a little bit outside the traditional funding streams.

"Even paying for students or graduate teaching assistants to help with marking. Right now, an academic's research is affected when you're juggling the workload, so someone who could be writing a paper is busy marking stage-one essays. We can get that person back to producing research ... that's my thinking."

As you might expect, Felicity is an advocate for lifting the profile of history education, in school and at university.

"If there's a national problem to be written about, then let's turn to a historian. Historians can tell us a lot about past pandemics, for example, about how we handled the flu pandemic in 1918. What happened next? We have a lot of science around but not a lot of history being discussed which can tell us how societies respond."

She says while the past can't predict the present, it can be used as a way of informing what we know about the present.

"Charlotte Bennett, a Marsden Grant recipient, has worked on the history of how children responded to the trauma of World War One and 'flu. Her study is 'Understanding the 1918-19 influenza pandemic through children's eyes' and trauma amongst children is an issue, as we know with the Christchurch earthquakes.

"So it's not that it's predictive or necessarily going to pop out a model, but it tells us about how humans behaved in similar circumstances in the past. That could give us some kind of enlightenment."
Felicity says it is important for New Zealand history to be taught in schools too, and the government's plan is to make it compulsory from 2022. But she's anxious it's done well and that making it obligatory doesn't put people off taking it at university.

"Many students equate New Zealand history with Treaty history and that's a critically important thread, but there's a lot, lot more that needs to be covered. So as they head off to uni, they might think they already know all there is to know about it.

"But the thing about New Zealand history is that there's so much more to learn. There's terrific new work on the New Zealand Wars being done, for example. Our history is still being written, it's nowhere near complete and that provides huge scope for research."

The former Avondale College student didn't initially think history would be a passion.

"I toyed with science and when I came to university I took a botany paper as well as my arts ones. But, typical student, I didn't think much of all those science labs!"

Now a historian and history teacher, she acknowledges there seem to be fewer New Zealand women historians than men.

"There's Claudia Orange and Judith Binney as examples but probably the people we think of first are Keith Sinclair, Jamie Belich, Michael King and Bill Oliver. They've all attempted to write national histories, that's what they have in common.

"Women have written national histories too, such as Philippa Mein Smith's Concise History of New Zealand. But Sinclair and Oliver were the first to write modern histories of New Zealand as national projects and that led to them becoming well-known."

A modern contribution from women historians is Tangata Whenua: An Illustrated History.

"Two of the three co-authors are women, Aroha Harris and Judith Binney, and there's very important storytelling in their book. If you're interested in the history of New Zealand, it's one of several must-reads.

"New Zealand is extremely fortunate in the quality of its historians, and they're high-calibre writers. So, even though the Sinclair and Belich books are older now, those general histories are terrific reads. As is Vincent O'Malley's 2016 landmark book on the Waikato War, The Great War for New Zealand: Waikato 1800-2000 and Dancing with the King: The Rise and Fall of the King Country, 1864-1885 by Michael Belgrave. They're accessible and lively and full of ideas."

I don't think we're duty-bound to do anything much with these statues. People are claiming, 'these are precious objects'. You know what? New Zealand has been putting the wrecking ball through precious objects for years.
Felicity herself has written a book: New Zealand's London: A Colony and Its Metropolis (Auckland University Press) was based on her doctoral thesis, for which she'd won the award for the University's best doctoral dissertation.

"My postgraduate work was supervised by James Belich and as an undergraduate I was taught by Keith Sinclair. I was very fortunate and that's one of the great things for students at Auckland – the best New Zealand historians are extremely accessible."

What began as a masters thesis of 40,000 words soon turned into a PhD.

"I was as surprised as the next person that it won the thesis prize because arts theses aren't often the big winners."

But the win reaffirmed her decision to have returned to study and academia.

"It's an incredibly validating experience to have that happen because when you're working on a thesis, as anyone who's done it knows, you become very inturned.

"You do an intense amount of work and it's quite easy to say to yourself 'who else in the entire universe cares about this?'

"It endorsed the subject area and what I was trying to do with it. It was a huge thesis and was a hugely enjoyable process, but turning the thesis into a book was not so hugely enjoyable!"

However, it came to be by moving the arguments forward from the thesis and adding fresh material.

Asked if such historians are always objective in their framing of New Zealand history, she pauses.

"There are quite strong narrative voices running through sole author projects. Yes, most of them are advancing an argument and they've got a point of view and I think that's what makes them interesting. We want people to come through with an idea, with a thesis."

She says her students often discover there's more to New Zealand history than they expected.

"One of the things my third-year class has been doing is going out and photographing commemorative items, statues, school gates, even household items and interpreting what they mean. So, they're shifting their vision of what constitutes history, and realising the archive isn't just acts of parliament, it's material culture around them. They just need to go and find it."

Earlier this year, Felicity wrote an opinion piece on statues for Newsroom, saying: "[I'm] not convinced that Marmaduke Nixon, or Sir George Grey, should take up much more historical space than they already have. If it is no longer right to have them on a public pedestal – which is the literal function of statues, then perhaps we should not grant them the dignity of a display case."

She received a lot of feedback on her opinion and wasn't suggesting we try to rewrite history.

"No, we could follow the example of other countries where they have 'redundant statue' parks. For example, post-Soviet countries have piles of statues of Lenin they don't look at anymore. They just bundle them off.

"I don't think we're duty-bound to do anything much with them. This is a funny thing, suddenly people are claiming, 'these are precious objects'. You know what? New Zealand has been putting the wrecking ball through precious objects for years, whether it's His Majesty's Theatre in Auckland or colonial villas in streets near you.

"Suddenly we become precious about this one little thing. What's interesting is not the object but the provocative nature of the suggestion. It exposes a little bit of a raw spot in the New Zealand psyche … we're getting energised about that and being uncomfortable about our history."

She says some of the statues aren't even good examples of art.

"We could always offer them to descendants of the sculptor's family and they could stick them on their front lawns and put up the appropriate plaque saying, 'I only like this because my dad did it'.
– Denise Montgomery
 
This article first appeared in the September 2020 edition of UniNews.