Te reo Māori: the language of our home
The University has an ambitious plan to promote and use te reo Māori within our community, which celebrates our unique history, writes Pro Vice-Chancellor Māori Professor Cindy Kiro.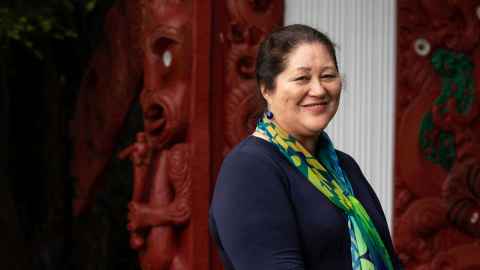 E ngā mana, e ngā reo, rau rangatira mā
Tenā koutou, tenā koutou, tenā koutou kātoa
To the authorities, the orators, the esteemed leaders
I greet you, I greet you, I greet you all.
The University of Auckland is proud of its achievements to promote te reo. They are part of our ambitious plan to promote and use te reo Māori within our University community. Our te reo policy was agreed to by the council in 2018 and an implementation plan agreed to by senior leaders in 2019. We have moved at pace since then to find an increased number of ways to promote the language including designing online experiences through digital gateways and tailored scholarships for low income Māori students called Waka Moana Scholarships. These actions express who we are as a country and values our unique history, peoples and language.
Another way to promote te reo is through the use of our app Te Kūaha. This tool is freely available to our University community, including our alumni and donors. The app was thanks to efforts of many Māori staff who championed te reo as a taonga (precious possession) and UniServices which provided the financial support for the app. We are currently working on extending the offerings and tools we can make available to staff and students, including ground breaking AI technology for te reo teaching as part of an intiative between the Faculty of Education and Social Work and the Faculty of Engineering. In addition we are encouraging the use of our te reo Māori courses within the Faculty of Arts. It is perhaps a sign of the times that they are over-subscribed given the increasing interest in learning te reo Māori.
Come and join us on our journey. Me herenga waka kātoa (let's tie up our canoes all together). In this way we can be more confident in our unique identity, our place in the Pacific and wider world, and our enjoyment from the things that make us distinctive.
Kia kaha, kia mānawanui.
Downloading the app