Engineering students follow in Bruce McLaren's footsteps with life-changing internship
Thanks to the generous support of Sir Colin Giltrap and Faculty of Engineering alumni in the UK, Engineering students Lizzy Grant and Harvey Merton won a scholarship that saw them follow in Bruce McLaren's footsteps and intern with the company that still bears his name.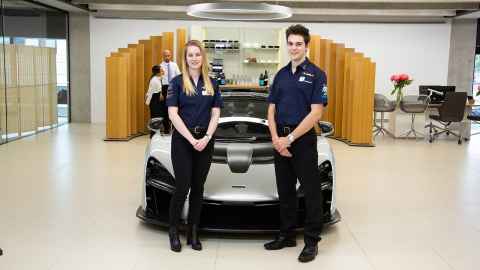 Winners of the Bruce McLaren Automotive award in 2018 and 19 respectively, Lizzy and Harvey travelled to England at the end of last year for a 12-week internship with McLaren Automotive. Both students have significant experience in our Formula SAE team, with Lizzy being a former Team Leader, and Harvey the current Chief Engineer. The life-changing opportunity saw the pair experience a number of different divisions within the company, including the concept team, frame and body, and the project management office among others.
"We mostly shadowed people which was cool for getting a really broad understanding of how the company works," Harvey said. "We also got to do some projects and get a little bit more technical understanding and experience which was super fun".
In particular, Lizzy spoke of the unique opportunity to work alongside experienced engineers and follow a project from concept through to completion.
"It was really good for learning about the different types of engineering you can go into and just how the whole business operates," she said.  "They've got so much knowledge over just so many different areas of the car, from the aerodynamics through to the electrical side."
Seeing so many different sides of the company helps you consider how everything comes together.
When asked if he was intimidated by working alongside engineers of that stature, Harvey in fact said he felt more comfortable than ever, thanks mostly to the welcoming McLaren staff.
"They know you're there as an intern, and everyone who works there has been in our shoes before. They understood what our skill level was going to be like and what we were capable of handling, so they worked with us really well. They gave us enough responsibility that we could do cool things."
On the topic of "cool things", a major highlight for the pair was a trip to the Idiada test track in Spain, where McLaren and many other automotive manufacturers put their latest creations through their paces. McLaren test drivers took Harvey and Lizzy on high-speed runs in the new Speedtail, and for quick laps of the handling circuit in the flagship Senna - a rare chance to experience the full potential of these machines.
The scholarship was also a unique travel opportunity for both Harvey and Lizzy, as neither had been that far overseas before, or to a non-English speaking country.
"Since I haven't been overseas much it was quite a new experience to be able to take a train to a couple of different countries with no passport control or anything like that. "It's a pretty different world," Lizzy noted. "We had about ten days between Christmas and New Year's, so we did a trip then, and then also the week we went to Idiada we went by Switzerland on the way. I'm just really glad we made the most of any travel we could do."
Harvey and Lizzy were also able to learn how a company with a deep and emotive legacy can continue to be a leader in its field even decades after its formation.
"I think the attitude in the company really helps," Lizzy explained. "The people in the company have to be really adaptable and put their ideas forward and be innovative, which I don't know if you get as much at some of the bigger, more rigid companies."
Companies like McLaren rely on their history to sell that emotional experience.
"When you buy a McLaren you become part of the family and you become part of that history, so it was really cool to see how deeply ingrained that was with everyone that works there and how emotionally invested everyone was," Harvey said. "It wasn't just a job, it's a passion as well."
It's the type of insight that can help focus career aspirations as well. Both Harvey and Lizzy already had extensive extra curricular efforts with all their time spent in the Formula SAE team, but seeing what an engineering career looks like at McLaren's level definitely made an impact on both of them.
"I think my time at McLaren has made me realise I do want to be right at the forefront of technology," Lizzy said. "I really want to work on something that's a new technology, not necessarily cars as much as I love them, but something that's really groundbreaking and also quite research-driven as well. I think I'd really enjoy that."
For Harvey, it was a chance to see what engineers do in practice, and gain an understanding of the career options in controls-based engineering or design engineering.
"I'm still quite interested in the technical side of those two things because I like creating things. It also opened my mind a little bit to what leadership and business roles look like in an engineering context," he said. "[In terms of] business and engineering integration, I was seeing how some project managers worked and people higher up in the company as well, so it was cool to see what skills you'd need later in your career.
"It gave me a better idea of what my career progression would look like, so maybe I would start off with controls and design and that kind of technical role, maybe with a smaller startup kind of vibe before moving into more managerial or strategic positions."
The McLaren Automotive Award gave Harvey and Lizzy an amazing opportunity to develop as people and as engineers. These scholarships are generously funded by Sir Colin Giltrap and a number of our UK-based alumni who have chosen to support the current generation of engineers studying at the University of Auckland. The Faculty of Engineering is incredibly grateful for the ongoing support of all our philanthropic donors.