Curious creatures brought to life in Snickel Lane mural
While Auckland city lay dormant during the first Level 3 Lockdown, Georgia Arnold brought an eye-catching mural at Snickel Lane to life.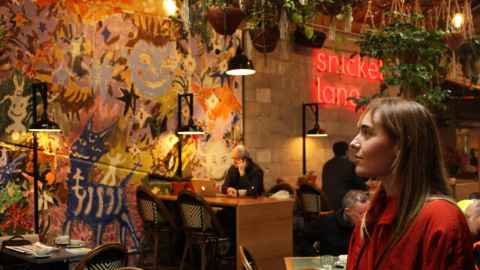 Georgia was the recipient of the Snickel Lane Urban Art Award, established by Argosy Property. The annual award provides an Elam School of Fine Arts student the opportunity to create and display a public artwork.
Georgia says her vision for the mural was to embody a sense of flow, encourage daydreaming and for the viewer to discover new details each time they looked at the scene.
"I think of Snickel Lane as a site of connection, a physical link between Fort Lane and Commerce Street, but also a space that facilitates connections between people… Ultimately I wanted to create a vibrant, lush space that I would want to spend time in," she says.
It is her first public artwork, which proved to be challenging, but after exploring new techniques and building confidence in her decision making process she is thrilled with the result.
"I think the artwork really comes alive when people are using the lane. While I was painting I saw parents holding up their kids and pointing out creatures, walking groups stopping by to chat and people taking photos in front of it.
"I'm so glad people like it. It's been cool to hear what people have to say about it too - the staff at the café named one of the creatures Skellycat. One person said the work felt like water to them, while another said it seemed to be woven together like a tapestry. It's so special seeing what was once just a scene in my mind slowly build to something people can engage with."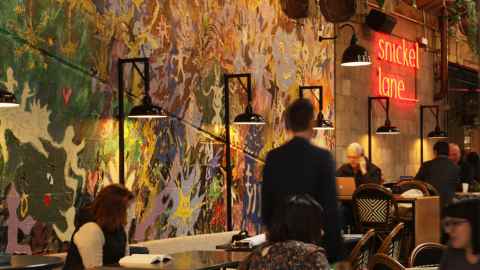 Argosy Property Asset Manager Warren Cate says providing the award is a unique way to enhance their commercial buildings and to keep the business connected to the community.
"The Snickel Lane Urban Art Award is a great opportunity to combine an aesthetic in our buildings with a commercial opportunity for talented students to create and display their work in a public place," he says.
"For many of the students the briefing meeting with Argosy Property for the annual competition is their first exposure outside Elam to the commercial world so it's important and gratifying to make this a good experience."
Warren hopes that the award will be a catalyst for creating further opportunities for Georgia's career.
Media enquiries:
Helen Borne | Communications Manager, Alumni Relations and Development
Email: h.borne@auckland.ac.nz