Donor nursed back to health by scholarship recipient he supports
Being cared for by a nurse he supports philanthropically was a pleasant surprise for Tim Donaldson.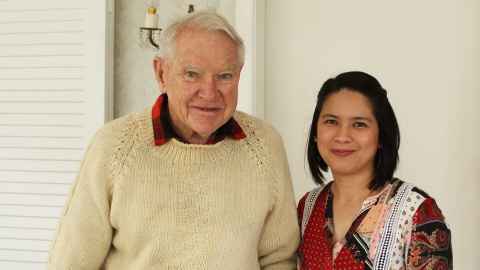 While in care at St Andrews Village earlier this year Tim was reunited with nurse Cyrene Villocillo, who was one of the recipients of the Victoria League Postgraduate Nursing Award.
Tim, a trustee of Victoria League, says it was "an honour" to be cared for by Cyrene and he was able to experience first-hand the impact the award has had on her.
Cyrene is the Clinical Manager at St Andrews Village. During Tim's stay she was able to update him on her studies, including how she is already putting her study into practice.
She told Tim that she is learning how to advance leadership practices in the hospital and how to better care for her patients.
"Doing this postgraduate course has opened my eyes to the fact that there's so much I need to learn," she says.
"I am learning more about my own leadership style and other styles of management, which I am using to coach our nurses to advance their own leadership in the workplace.

"Part of my role is to train staff and a lot of things I've learnt I'm passing on to new staff. By sharing my learnings it empowers other people."
Tim is pleased that Cyrene is able to share her knowledge and that the award is providing an impact within the nursing community.
"Cyrene sharing her experience is a very good idea, it's going to expand the knowledge base, rather than restricting knowledge to one person" he says.
The Victoria League Postgraduate Nursing Award was established in 2018 to encourage and support registered nurses who are based in Auckland and who otherwise may not have the opportunity to undertake postgraduate study in nursing at the University of Auckland.
 
Media enquiries:
Helen Borne | Communications Manager, Alumni Relations and Development
Email: h.borne@auckland.ac.nz