The problem with the 'vote ghost' campaign
Opinion: The 'apathetic' stereotype of young Kiwi voters is misplaced; the real reason why some young people don't use their vote lies elsewhere, writes Carol Mutch.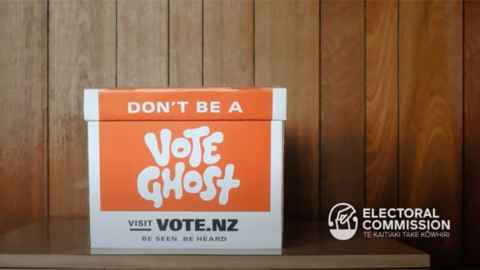 The Zero Carbon Bill was the work of highly committed and engaged young people, and School Strike 4 Climate and Black Lives Matter brought thousands into the streets. ActionStation continues to promote and act on a range of issues of interest to youth and the Student Volunteer Army is still operating 10 years after the Canterbury earthquakes.
Other commentators level the blame at the education system and see making the compulsory teaching of civics education as the solution. Two recent discussion documents, The New Zealand Initiative's Democracy in the Dark and the New Zealand Political Studies Association's Our Civic Future are hesitant about the idea of teaching civics as a silver bullet, believing it doesn't necessarily lead to greater understanding or action.
The authors of Democracy in the Dark caution: "…the benefits of civics education may be overstated: decades of instruction in civics in the US coincide with very poor political knowledge in that country."
The school curriculum offers many opportunities for students to find out how government functions or citizens' rights and responsibilities in a democracy, but these options are not always taken up by social science teachers or senior students selecting credits for NCEA.
There are different views on teaching politics: civics education aims at grounding students in an understanding of the purpose and functions of government, with the Democracy in the Dark survey highlighting gaps in New Zealanders' knowledge on this front.
'Citizenship education' focuses on what it means to be a citizen who actively participates in, and contributes to, society, of which getting involved in democratic processes is only a part. Another view is that if neither of these result in increased voter turnout, then maybe we need 'political literacy' to cover both political content and action.
But I believe asking "Why don't young people vote?" distracts from the real issue. In 2019, UNESCO New Zealand hosted a panel discussion on Global Citizenship Education which highlighted that there is little consensus on what it means to actively participate as a citizen of Aotearoa New Zealand. Too many voices are missing from the conversation, including those of young people.
I asked one of the UNESCO Aotearoa youth leaders, Nick Mailau (who is also a teacher at Kauri Flats School, Takanini), to canvass young people for their insights into politics. Many agreed that they didn't get much exposure to learning about politics at school. Here's what some said:
- "Younger Kiwis are less familiar with the basic facts of civics than older age groups."
- "It wasn't until I reached Year 13 and was handed an enrolment package, that I was even exposed to anything to do with our democracy."
- "There's also very little content taught in schools so the whole concept of MMP can come across as abstract."
The school curriculum was not their only concern:
- "Politics is still seen as a 'white man's game'."
- "It's hard to relate and interact with your local MP or to wrap your head around their policies."
- "It is also a topic that isn't necessarily discussed at the dinner table, so I think making politics and voting on an everyday topic would allow young people to find it more accessible and relevant."
Some of their solutions included:
- "In the last election there was an Instagram page called VirginVoterNZ, which helped explain some of the policies and why it's important to vote. A greater plug of these sorts of campaigns would help."
- "Being able to connect democracy and politics with our everyday life decisions would be important to show the relevance of voting."
- "A toolkit would be useful for young people. Making it fun and relevant would be something that could appeal to young people."
- "Having politicians take the time out to come speak with young communities would be helpful."
I'll leave the concluding comment to one of these responders as an appeal to anyone not sure if they will vote:
"Never in history have young people had such a voice and a platform to influence change. We are a massive part of society and our combined efforts have the ability to completely overhaul the system, if we wanted to. We are a force and a power of our own and we should use our combined efforts to make a stand for what we believe in. Voting is only one method for us to do so."
Professor Carol Mutch is from the Faculty of Education and Social Work. She is also the Education Commissioner for the New Zealand National Commission for UNESCO.
This article reflects the opinion of the author and not necessarily the views of the University of Auckland.
Used with permission from Newsroom The problem with the 'vote ghost' campaign 16 September 2020.
Media queries
Alison Sims | Research Communications Editor
DDI 09 923 4953
Mob 021 249 0089
Email alison.sims@auckland.ac.nz