Choir helps people with neurological conditions recover their voice
A short documentary about the CeleBRation Choir, set up for people living with a neurological condition, captures how singing in a choir is crucial for well-being and may help people recover or maintain their ability to speak.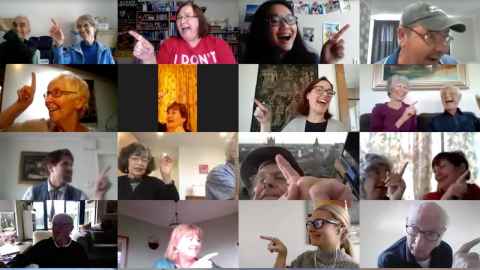 The film, "Sing, They All Said, Just Sing" (video below) is a short documentary film selected for this year's Doc Edge Festival but has now been made available on YouTube. It was directed by University of Auckland film student Sakshi Chadha, and captures the reflections of three choir members living with stroke, Parkinson's and dementia, about singing in the choir. The film is named after a poem by Roger Hicks, who appears in the film.
The CeleBRation Choir have been meeting to sing during lockdown, on Zoom, and the Choir is currently working towards recording a track for a forthcoming album by jazz pianist and University of Auckland alumnus Ben Fernandez - an original song composed by Fernandez, for the choir.
The choir is an initiative of the Centre for Brain Research, set up in 2009, and has been led by Alison Talmage, a registered music therapist and now a PhD candidate in the School of Music.

The benefits of being able to join such a choir are myriad, she says. Research at the University of Auckland has shown that participants in neurological choirs have a higher than expected health-related quality of life - singing in a group provides a sense of community, bringing people with similar problems together to sing. "And it's a fun thing to do, for those for whom treatment or therapy is limited," she says.
For many singing is easier than speaking, she adds. Well-known lyrics can be easier to recall than individual words. Moreover, her own anecdotal evidence and research by speech-language therapist Robin Matthews for his PhD in the School of Psychology at the University of Auckland shows that singing can help people recover and maintain their voice, such as the volume of their voice, tonal quality and speech clarity. Dr Matthews leads The Brainwave Singers choir for the Bay of Plenty DHB.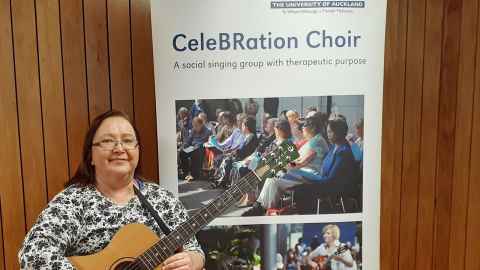 The success of the choir approach has encouraged the development of other choirs and groups in New Zealand. Talmage leads a second group, Sing Up Rodney, in Ōrewa and Warkworth, and Matthews leads the choir in Tauranga. There are other music therapist led choirs in Christchurch and Wellington.
Her research is supervised by Vocal Studies Co-ordinator Dr Te Oti Rakena at the School of Music, with co-supervision from Professor Suzanne Purdy, Head of Psychology at the University, and Associate Prof Daphne Rickson, Victoria University of Wellington's Music Therapy Department.
As Professor Purdy says in the film, singing in a choir is good for psychosocial health, but also concentrates the mind. "You're having to pay attention, remember the words, and be in synchrony with the people around you." 
It's also about creating a sense of joy. "If you have a neurological condition, and an uncertain future, it's about living as well as you can, doing what you can do. Singing with a group of people who have similar problems to yours is about that."
Talmage's doctoral research is an action research study focusing on improving participant outcomes and developing practice guidelines for choir leaders.
She hopes that it will lead to more choirs being set up for people with neurological conditions around the country. "I would like to see such choirs be something that is accessible to anyone with these conditions, and their friends and families, anywhere in New Zealand," says Talmage.