AI evokes both excitement and fear
Artificial Intelligence (AI) promises to make improvements to our lives in many ways, including enhancing efficiencies in the workplace, generating productivity gains and having a positive impact on our wellbeing.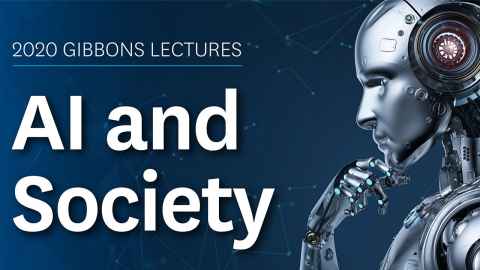 It also promises to help with uncovering criminal activity and solving crimes, dramatically influence healthcare, address global challenges and reduce global inequities and extreme poverty.
But while AI has potentially far-reaching impacts, it evokes both excitement and fear, including fears around privacy, trust, freedom of speech and whether and how well it can be regulated.
The 2020 Gibbons Memorial Lecture Series will discuss these topics and more. There are four lectures in the series, beginning on 30 September and ending on 21 October. Each lecture begins at 6pm. The first two lectures will be online, the following two are yet to be decided.
30 September - Our future with AI - Professor Michael Witbrock
For more than a century something like AI has offered paths to dystopia. Those paths are near at hand, and we now have some decisions to make. In this talk, Professor Michael Witbrock will discuss these paths to broad AI and explore Aotearoa's potential to make sure of a positive outcome.
Michael Witbrock is a Professor of Computer Science at the University of Auckland. His research group is the Broad AI Lab, integrating machine learning, reasoning and natural language understanding, with an additional focus on maximizing the near-term benefit of AI to NZ entrepreneurs and business, and more generally achieving the best social and civilisational impacts of increasingly powerful AI.
7 October - Big data: Transparency and reliability - Professor Tim Dare
Professor Dare will discuss why we should be more concerned with reliability and how automated systems compare, ethically, and with alternative ways of doing the tasks which might be done by automated systems.
Tim Dare is a Professor of Philosophy at the University of Auckland. He is employed by New Zealand's Ministry of Social Development to provide data ethics advice and to develop privacy, human rights, and ethical review processes for proposed uses of client data. He has provided ethical reviews of a number of predictive risk modelling tools in New Zealand and the US. He also sits on a number of local and national research and clinical ethics committees.
14 October - Learning to adapt to changes in this dynamic world - Yun Sing Koh
In this talk, Dr Yun Sing Koh will discuss research in the area of data streams and how we adapt to changes in the data.
Dr Yun Sing Koh is a Senior Lecturer in the School of Computer Science at the University of Auckland. Her research is in the area of machine learning, with a current focus on data stream mining, lifelong and transfer learning, and pattern mining.
21 October - Social media, AI, and society: Some psychological insights - Associate Professor Kumar Yogeeswaran
Associate Professor Yogeeswaran will discuss the impact of social media, AI, and other digital technologies on extremism, social relations, and self-perceptions, among other aspects of social living. He will also discuss the importance of varied psychological forces in shaping the impact of technology on society, and the opportunities for greater collaboration between technologists and social scientists in order to improve human living.
Associate Professor Yogeeswaran's primary research examines how people's membership in social groups - ethnic, national, religious - shapes attitudes and behaviours toward other groups as well as self-conceptions in culturally diverse nations. His secondary research examines the impact of technology on society.
This lecture series is free and all are welcome. You can register for this event.
Media contact
Anne Beston | Media adviser
DDI 09 923 3258
Mob 021 970 089
Email a.beston@auckland.ac.nz