Gibbons Memorial Lecture Series
In 2008, the School of Computer Science began an annual lecture series to present Computer Science research to the wider public. The lectures are named the "Gibbons Lectures" in memory of Associate Professor Peter Gibbons.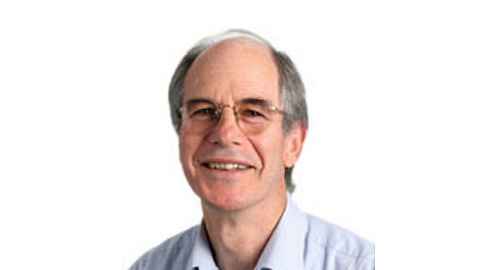 About Associate Professor Peter Gibbons
Peter Gibbons was a member of the University of Auckland's Department of Computer Science from its earliest days in 1980 until his retirement in 2004.
His began his academic career at Massey University, where he completed a Bachelor of Science in Mathematics and Statistics with First-class Honours in 1970. This was followed in 1972 by a Master of Science in Computer Science with Distinction – the first degree in Computer Science awarded in New Zealand. He completed his PhD in Toronto then returned to New Zealand to lecture at Massey, before moving to the University of Auckland. His tenure included a three year stint as Head of Department. After retirement, Peter continued his association with the University under an honorary appointment.
The Gibbons Lectures fund
The prestige of these lectures and their permanence depends on funding. Click the link below to support the Gibbons Memorial Lecture series by gifting a one off or regular contribution.
2023 series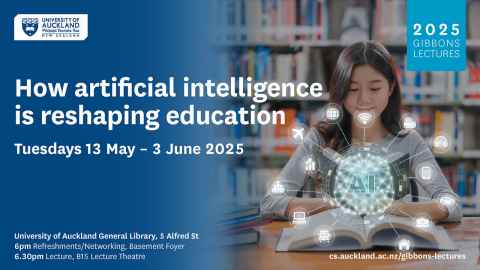 Generative AI
2022 was the year of Generative Artificial Intelligence (AI), and it looks like it will continue to pick up steam into 2023 and beyond.
Generative AI systems are built on massive datasets and produce fresh material comparable to the training examples using machine learning techniques. They have the ability to generate new material, such as prose, images and music. Over the past 2 years, neural network image generation tools like DALL-E and Stable Diffusion have reached close to human-level art generation, and chatbots like ChatGPT author prose that looks plausible.
Are Generative AI systems an end in themselves or are they a step towards human level general intelligence?

AI and the New Creative Revolution
Tim Gibson
Stolen Glances Studio
Generative Artificial Intelligence like ChatGPT and its visual equivalents DALL-E, Midjourney and Stable Diffusion have shaken up the creative workforce, often producing industry level copywriting, editing, illustration and design at a fraction of the time and cost of a human worker. Their capabilities have set off a technological arms race at the world's largest tech companies while simultaneously building a user base of enthusiasts faster than the most popular social media platforms. 
What can Generative AI be used for, how powerful is it really, how could it be used ethically, and what impact will it have on our creative industries and the people who work for and engage with them? 
What could a world look like where creativity is 'free'?
In this talk, Tim will showcase some of the current technologies' capabilities, the hot takes and debates from within the creative industries and attempt to predict what is next for creative Generative Artificial Intelligence. 
Event date: Thursday 11 May 2023
Watch online: Livestreaming from 18:00 
AI Colonisation and Mātauranga Sovereignty
Karaitiana Taiuru

Taiuru & Associates 
Māori and indeed all indigenous peoples are on the brink of being colonised again with generative AI if they are not a part of the ethics, initial planning and decision-making processes, as beta testers, codevelopers, the entire life cycle from inception to deployment and then in a monitoring capacity.
The talk will then discuss the positive impacts of generative AI with te reo Māori and future considerations for Māori Peoples with generative AI in our traditional settings such as marae and pōwhiri.
Event Date: Thursday 18 May 2023
Watch online: Livestreaming from 18:00
How does generative AI work and what is its future?

Jiamou Liu
School of Computer Science, University of Auckland

Graph analysis is an increasingly important tool in modern data science, providing powerful ways to represent and analyse complex structured data. In this talk, we will discuss recent advances in graph analysis, including data mining and social network analysis, as well as the use of Graph Neural Networks (GNNs) for tasks such as node classification and link prediction.
We will also explore recent techniques in contrastive learning for graphs and data augmentation for graphs, which have enabled significant improvements in the accuracy and robustness of graph-based models.
Event Date: Thursday 25 May 2023
Watch online: Livestreaming from 18:00
ChatGPT and the Road to Artificial General Intelligence?
James Maclaurin

Co-Director, Centre for AI and Public Policy, University of Otago
Recent progress in Large Language Models and tools like ChatGPT built upon them will have radical consequences for the future of life and work in Aotearoa. Some, including OpenAI who make ChatGPT, suggest this technology is now a promising route to the development of artificial general intelligence. The plausibility of such claims rests in part on whether such systems can exhibit distinctively human capacities such as belief, desire, knowledge, reasoning, and autonomy.
This talk asks what philosophical analysis of such phenomena can tell us about the possibility of recreating them in software. It also discusses the utility of artificial general intelligence as a measure of our success at creating intelligent machines.
Event date: Thursday 1 June 2023
Watch online: Livestreaming from 18:00