Celebrating our Liggins graduands
This month we're celebrating the graduation of our students, all from very different backgrounds and all investigating very different things. But what brought them to postgraduate study and what have been the highs and lows along the way?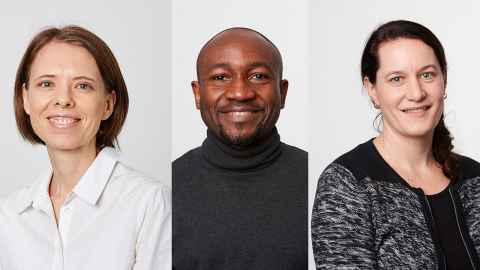 Dr Elza Cloete
Dr Elza Cloete is a neonatologist at Christchurch Women's Hospital Neonatal Intensive Care Unit. She completed a full-time PhD investigating the feasibility of introducing a screening test to detect critical heart disease in newborn babies. The feasibility study showed that serious heart conditions can be easily identified before a baby becomes unwell with a simple 'pulse oximetry test', which can be lifesaving. Elza and her colleagues believe the test should be offered to all newborn infants in New Zealand, and are working with the Ministry of Health's National Screening Unit to develop national guidelines for newborn pulse oximetry screening.

If every baby born in New Zealand received this test on the first day of life, we could potentially prevent four deaths each year that are related to structural heart disease in newborns.
As well as providing academic writing and research methodology experience, Elza's doctorate gave her the opportunity to learn more about the New Zealand healthcare system and to forge relationships with organisations involved with the care of newborn infants - skills and relationships that are very valuable in her role as neonatal paediatrician. The hardest part of her PhD was stepping away from clinical practice for a few years. "I missed the everyday interaction with patients, their families and being part of a team that provides healthcare to newborn babies," she says.

Dr Tayaza Fadason
Dr Tayaza Fadason is a research fellow at the Liggins Institute and a former lecturer at Kaduna State University in Nigeria. He completed a full-time PhD in Biomedical Science investigating genetic mutation and the human genome.
With a BSc and MSc in Microbiology already under his belt and a keen interest in computer programming, Tayaza's PhD was an opportunity to combine his knowledge and passion. Using programming languages, machine learning algorithms and specialised genetic datasets, his goal was to identify genes that are affected by genetic changes in diseases that occur together, like obesity and diabetes. His research has provided a platform for prioritising genes that are potentially useful for treating certain conditions. His findings could identify drugs that can be used to treat multiple diseases in a cluster if they share the same genetics and biochemical pathways.
Tayaza's advice for those considering postgraduate study? "Enrol for a course that is at the intersection of your passions, skills and dreams. Finding this sweet spot ensures a more productive and fun PhD."

Jillian Hildreth
Jillian Hildreth is a research assistant at the Liggins Institute. She completed a full-time Honours degree in Biomedical Science, majoring first in in Food Science and Nutrition, and then in Biomedical Science.  Jillian's goal was to evaluate a booklet of evidence-based nutrition guidelines supplied to pregnant women in New Zealand and Australia and find out what mums think about it.

I discovered there is a lot more work to be done in communicating health
messages to women in a way that is helpful and supportive for them.
After three years of taught papers, Jillian enjoyed being able to take the time in her fourth year to dive deeper into a particular topic. One of her key findings was a strong sense of guilt in mums who feel under pressure from society (and themselves) to do everything 'right' for their kids. "As a mum and full-time student myself I had to make some tough decisions about how to spend my time, so I could certainly relate to my study participants in that regard," says Jillian.

Jillian's research helps to illustrate that knowledge translation or science communication is not 'one size fits all' and that simply providing people with information does not necessarily lead to healthy behaviour change. Future goals for this project involve working alongside parents and prospective parents to design a nutrition resource that resonates more closely with their needs and experiences.

Tayaza was supervised by Associate Professor Justin O'Sullivan and Dr John Ingram (Plant and Food Research, New Zealand). Elza was supervised by Professor Frank Bloomfield and Dr Tom Gentles. Jillian was supervised by Dr Jacquie Bay and Professor Clare Wall.