Juggling high performance and study: a programme to make it easier
For our elite sportspeople and performers, studying can be a challenge. Toby Batchelor explains how the University can help.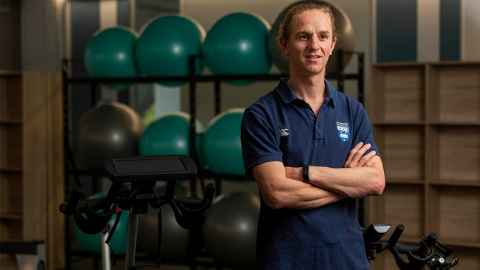 What does your job involve?
I'm a middleman between student athletes or performers and the University, and then also the students and their organising body, such as High Performance Sport New Zealand. I ensure that the necessary support structures and individual needs are met so these talented individuals can be the best athletes/performers and students possible. There is also a significant piece of work in developing the programme itself.
How do students get into the high-performance support programme?
There are certain eligibility criteria and an application process that involves verification of high-performance status from the students' sporting or performing arts national organisation. Then we meet with the students and run them through the support they'll get and tailor the programme to suit them.
How does the University help them?
The University is a member of the Athlete Friendly Tertiary Network and has a memorandum of understanding to support these athletes and performers with everything from flexibility over attendance and assessment to exam arrangements and well-being support. We've identified three pillars of support: the first is around enrolments, degree planning and day-to-day flexible study assistance. The second is supporting them performance-wise, be that in strength and conditioning or providing performance and rehearsal spaces. The third pillar is personal and career development.
So the programme isn't just for athletes?
No, a lot of people don't know it's for athletes and performers, so dancers and musicians and any performers can apply but at the moment only 14 out of the 197 come from the performing arts. There's no maximum number.
What kind of challenges do high-performance students face?
They need to balance two full-time commitments: their high-performance area and their university study, especially around the times of World Champs, Olympics etc. They might even have a job on top of that. Then there's training and potentially overseas travel. A lot of stresses can be put on them which can become overwhelming, so part of what we do is ensure they are looking after themselves. They're very driven usually, so they have goals in both areas.
What if a student has an exam/event clash?
We work closely with the examinations office to assist student athletes through the alternate exam application process so they can sit exams that clash with major competitions at different locations or at different times, or sometimes both.
Does this programme attract students to the University of Auckland?
Definitely. It makes being a high-performing student-athlete possible. With Covid, many have come back to study full-time or part-time, even from other universities. This year, many have made good starts on their degrees because Covid-19 has interrupted their outside activities.
How are you developing the programme?
I am looking to form internal partnerships within the University to help students improve their performance and plan their long-term work future after their performing or sporting days end. One such partnership is with Career Development and Employability Services (CDES). Only around one percent will actually make professional sport their career, so we help them look at other related forms of employment.
Do athletes only study health and science?
No, it's varied. Our 2020 Sportsman of the Year Michael Brake (rowing) is studying engineering and 2020 Sportswoman of the year, Brianna Reynolds-Smith (sailing) is doing commerce. Ultimately students come to this University because of the reputation of the degree, so they do expect things to be harder to balance, but also recognise having a University of Auckland degree will put them in good stead for the future.
What's the most unusual category for one of these high-performance students?
All up we represent 41 sports, including quite a few in minority sports, such as underwater hockey. But our most unusual is probably the magician. He performs internationally.
What sports do you take part in yourself?
These days it's just running. I'm competing in ultra-marathons just to see how far I can go. I find it really interesting to see what the body can do.
We represent 41 sports and performers, including quite a few in minority sports. But our most unusual is probably the magician.
Where are you from?
The Catlins. I studied a Bachelor of Physical Education, Exercise and Sport Science, at Otago. I wanted to expand my horizons as I've spent a lot of time in the south so I ended up working in a clubs and support role at Unitec. When that contract ended, I took a job here as a sports co-ordinator, then my current role from the end of 2019.
What do you miss about the South?
I was on the West Coast recently and I think what I miss is the vastness and the sense you are quite a small person in a large world. Being in a large area near the mountains is kind of humbling.
We're staying home for the foreseeable future. Where should we visit this summer?
My hometown, The Catlins. It's a beautiful place. If you time it so the weather is right, which can be tough, it's magic.