A love of theatre and enormous respect for their teachers at the University in the late 1980s and early 1990s inspired a recent gift to Drama from Sydney-based alumni Ian Narev and Frances Allan.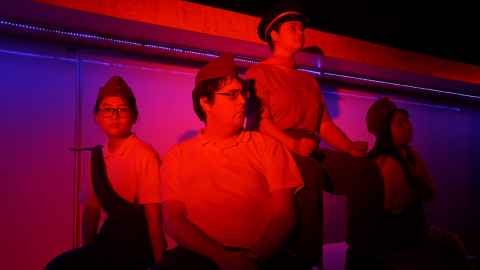 That gift has now created a unique and powerful theatre experience for Drama students in 2020, despite being thrown a few pandemic-related curve balls.
Ian, a business leader, and Frances, a lawyer, made a generous $25,000 donation which has funded a commissioned theatre artist for two years, a first for the Drama department. Their support resulted in a highly successful production called 'The House of Illusions', an adaptation of 'The Balcony', by prominent French playwright Jean Genet.
The students reported an exceptional experience, even with the many challenges they faced due to Covid-19, including a move from alert level 2.5 to level 2 on the day the production was meant to open in September.
"Our show had every obstacle thrown at it – our venue cancelling on us, strict Covid-19 restrictions to adhere to during rehearsals and cast members being unable to join due to health reasons and being in a different part of the world altogether – but we managed to overcome each one with resilience and ingenuity and emerged with a show that was unique," says student Shelby Kua.
Senior Lecturer in Drama Dr Rina Kim says they had to be as flexible as possible, creating plans A, B and C. "This year's production was only possible because we had a commissioned playwright on site from the very early stage, in March."
The playwright/director was Benjamin Henson, who moved to New Zealand 10 years ago after training in London and directing in the UK, France, Germany and at the Edinburgh Fringe Festival. Ben has been involved with the University in the past as director for Summer Shakespeare. This was his first time directing a production as part of the regular course programme.
The project goal was to produce an adaptation of a well-known play. The students studied the main themes in the original play, especially the idea that rebellion is an epidemic, then modernised and satirised it.
"We created this production in the spirit of not knowing if it would ever be seen," Ben says.
"We really honed in on the learning trajectory for the students in all aspects of the theatre production, the students taking on roles as assistant directors, in lighting, stage management, costumes, publicity, as well as their roles in the performance. It wasn't all about the final result."
'The House of Illusions' was meant to have been shown at the Herald Theatre but was cancelled due to Covid-19. Instead, Ben created a 360-degree site-specific theatre, transforming a study area at the Social Sciences Building on campus into a performing space. The cast of 36 was divided into two, performing alternately for an audience of just 30 in each performance for six shows.
The two members of the cast who had to remain in China participated as international reporters delivering news items via TV screens, as part of the script.
Rina says being able to take on Ben as both playwright and director was an enormous element in the success of the project. For many of the students, it was the first experience of a full production.
They reported acquiring a depth of knowledge, skill and practice and a huge boost in confidence.
"Working with Ben and watching him direct this production taught me so much," says Dragon Chen.
"His energy and passion for the project he brought every day was infectious and it made me want to step up my game too. He made everybody feel equal, worthy and safe to strive for their potential."
The philosophy behind Ian and Frances' donation was to give drama students an opportunity they might otherwise not have had. They were "delighted" to hear about the direct link between their support and the positive experiences for students.
They both have vivid memories of going to theatre productions when they were growing up, Ian also appearing in the TV series 'Children of Fire Mountain' in 1979. As well as being Group COO and CEO of the Asia-Pacific and Americas division of SEEK, Ian has been Chair of the Sydney Theatre Company for the last five years.
"Theatre is special because of the communication between artists and audiences. Each performance of a show is different, because of the unique energy of humans interacting in the theatre, however grand or small. Even in the digital age, that energy is dependent on a social experience, and cannot be replicated through a screen," they said.
"And beyond the theatre creation and watching experiences, vibrant theatre communities are critical to healthy societies, and have been forever. Theatre is critical to helping us understand ourselves and each other, challenge (and where appropriate ridicule) the status quo, and relax."
Ian and Frances are both graduates of the Arts and Law faculties and say they still talk about the quality of the education they received.
"Names like Don Smith, Sebastian Black, Michele Leggott, Judith Binney and Andrew Sharp from the Arts faculty, and Peter Watts, Julie Maxton, Bernie Brown, Mike Taggart and Bill Hodge from the Law faculty, are still spoken about with reverence in our household. Well beyond the subject matter of what we learned, their passion for what they taught and generosity of spirit really inspired us.
"More than anything, our support of the University is our thank you to them and the many others who helped shape our minds, and gave us a good laugh."