Microsoft selects Māori engineering student for graduate internship
Arran Davis (Ngāti Hine, Te Uriroroi) has been selected by Microsoft for a graduate internship based in Seattle, Washington State. He was due to leave for America in October, but the effects of Covid mean he was still able to attend his graduate ceremony at the University of Auckland.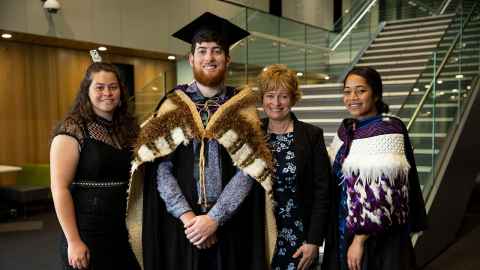 Last week, and with his whānau, staff and peers from SPIES (South Pacific Indigenous Engineering Students), Arran celebrated the completion of his Master of Engineering with a specialisation in Mechatronics.
"I've always had an interest in computers, especially computer games. When I was a student at Auckland Boys Grammar, it was my dad who encouraged me to pursue engineering," said Arran.
Arran credits his success to his late father Tākuta Marty Davis who worked as a GP in Papakura and was a renowned advocate on highlighting health issues impacting Māori.
With an undergraduate degree in software engineering, Arran changed his masters specialisation and went onto mechatronics after being inspired by lecturer Dr Andrew McDaid whose research looks into rehabilitation robotics and wearables.
"My masters research involved working on a knee brace which helps patients recover from knee injuries. My work was focused on adding some intelligence to this brace so that it can operate more effectively."
When he takes up the graduate internship with Microsoft next year, Arran will be using his skills to improve payment systems with artificial intelligence. Eventually he hopes to become an expert in this field so he can bring those skills home to Aotearoa.
"University is good at giving you options, a chance for a good job and maybe even overseas travel. Do something that you like, so it's not just a job, it's something you're excited to get up to."
For now, Arran plans to spend time with his whānau until he gets the green light to travel to the US.