Study to recognise and protect independent public service, awarded Marsden
Te Pūtea Rangahau a Marsden, the Marsden Fund, has awarded $660,000 to Professor Janet McLean QC for her research project Reconstitutionalising the Public Service in Westminster systems.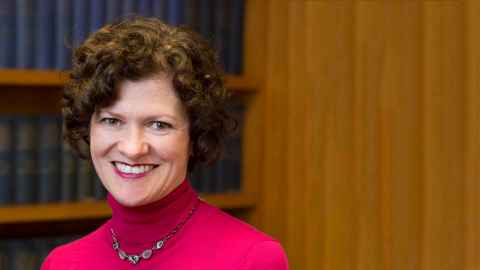 "In Westminster constitutional systems such as New Zealand, the United Kingdom, Australia and Canada, neo-liberal reforms have increased the responsiveness of public servants to the politics of the day, but have also created a new vulnerability to populist, partisan and short-term agendas. 'New Public Management' measures have undermined the operation of conventions that require the public service to be appointed and promoted on merit, to maintain impartiality, and to give free and frank advice," says McLean.  
McLean's research project does four things: it draws lessons from pre-democratic political theory about the importance of good counsel for contemporary democracy, and for constitutions more generally; it gives an historical and comparative account of the development, operation and resilience of the constitutional conventions protecting the independence of the public service from the nineteenth century to the present day in New Zealand, United Kingdom, Australia and Canada; it synthesises existing best practice across these jurisdictions; and it explores practical and conceptual ways in which contemporary law, political theory and public administration could better recognise and protect independent, evidence-based advice-giving in a new era of post-truth politics. 

Research, Science and Innovation Minister Megan Woods says "We've designed our funding so it can address real-world problems, while also giving researchers the freedom to innovate and come up with new ways to solve problems."
Janet McLean is a Professor of Law and Associate Dean (Research) at the University of Auckland. Professor McLean has also acted as an adviser for the New Zealand Government, serving on the Legislation Advisory Committee and on a ministerial inquiry into Human Rights Protection in New Zealand (2000). She was appointed a Queen's Counsel in 2019.
Her research interests include the constitutional role of the official, the public-private distinction, the nature of the Crown, Bills of Rights, bureaucratic design, public contracting, freedom of information and the nature of unwritten constitutions.
This year, Te Pūtea Rangahau a Marsden, the Marsden Fund, has allocated $84.751 million (excluding GST) to 134 research projects across a wide range of disciplines from Biomedical Sciences, Engineering, Mathematics, Physics and Chemistry through to Social Sciences including Maori studies, public policy and social linguistics and the humanities.
Te Pūtea Rangahau a Marsden, the Marsden Fund is managed by Royal Society Te Apārangi on behalf of the government.