Melani Anae: once a Panther, always a Panther
In an honest, personal story, Dr Melani Anae (Pacific Studies) looks back on 50 years of involvement with activist group the Polynesian Panthers, what led her there and how it changed her life.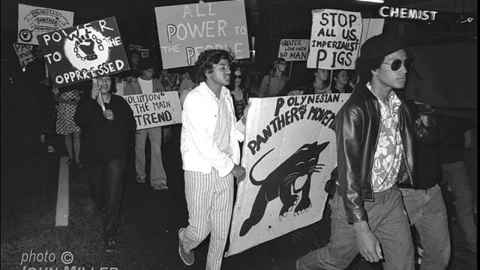 InThe Platform, The Radical Legacy of the Polynesian Panthers (BWB Texts, 2020), Melanie Anae recounts how as a quiet, grief-stricken Samoan teenager who had just lost seven members of her family (five to a plane crash in Samoa), she found camaraderie and a shared cause with the Panthers; a movement created in response to the racist treatment of Pacific people in New Zealand.
"Our worst enemy was media coverage back then, the 'man in the street' had an English accent and negative coverage of Pacific people was everywhere," she says. "We were portrayed as rapists and criminals, so we needed to tell our version of events."
Aged just 17, she "snuck out" with a friend on a cold winter's night in 1971 to the inaugural meeting of the Polynesian Panther movement, later to become the Polynesian Panther Party with 20 chapters in its heyday. Its leaders came from two inner-city gangs, Nari Meleisea from Ponsonby KCs and Will 'Ilolahia from the Niggs. Will became political and wanted to form a new group.
The group was inspired by books like Seize the Time by Bobby Seale from the American Black Panther movement, and its central philosophy became a three-point platform of peaceful resistance, Pacific empowerment (identity work) and educating New Zealand about persistent and systemic racism.
 
As well as legal advocacy, homework centres, stopping unlawful evictions, information sharing and peaceful protests, the Panthers' activism eventually culminated in a daring retort to the mid-1970s' dawn raids; where police, often with dogs, would burst into the homes of Samoan and Tongan 'overstayers' (people who had allegedly overstayed their working visas) in the early hours of the morning and cart them away to the criminal courts.
Dr Anae believes that in the end, it had to be the New Zealand-born Pacific generation pushing these issues forward, as their parents were too committed to fitting in.
"Our parents couldn't do it. In a cultural sense, they regarded themselves as visitors to a new country and they wanted to be respectful, to abide by the country's rules and how they did things, and those were the values I grew up with: respect your elders, serve everyone older than you, never answer back, do as you are told and attend church."
She remembers avoiding the press photos taken of the Panthers' protests in case her widowed father should spot her in the crowd.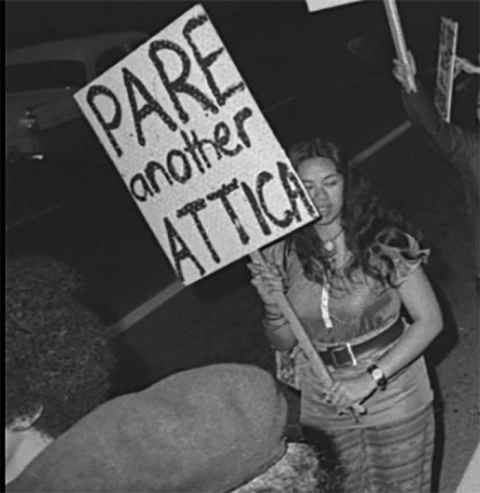 Set in Auckland's inner city suburbs of Ponsonby and Grey Lynn before gentrification forced many Pacific people out, the book is not only a reminder of the painful episodes in our recent history, but also the life and colour of those suburbs when they were a hub for migrant families, their churches and workplaces.
"Though at times we had two or three families living with us, life was fun – playing musical beds and having lots of food around. My mother made sure the house was always clean and tidy," she writes. "We were on a first-name basis with the people next door and up the street; passed food over our back fences to share; and hung out at our palagi neighbours' house to watch their black and white TV."
In terms of achievements, she believes that the Panthers "began to shine a light on racism and oppressive systems, and made small changes… that were, and are, so much greater than the sum of their parts.
"They are writ large by the liberating education some of us are still involved in and the snowballing effect it has."
She says the legacy of the movement, which never officially finished, lives on in her own classes in Pacific Studies at the University, several books, one of which she edited, two documentaries and a series of annual high school talks, where she and other members pass on the Panthers' story to the current generation.
The Panthers began to shine a light on racism and oppressive systems, and made small changes … that were, and are, so much greater than the sum of their parts.

And looking back after a respected academic career, three children and two grandchildren, she believes she can thank the Panthers for much of her success.
"Experiencing the pain that came from tension between non-cultural conformity and the politics of the Panthers was necessary. The gain was that we forged a unique identity … a highly politicised generation of Pacific leaders who became the first politicians, the first university graduates, the first doctors, lawyers, All Blacks, academics, writers, theologians, musicians and entertainers."
Early on, out of her own pain and grief, she realised that "silences, silencing and being heard matters. They matter for remedies. They matter for living. They matter for wellbeing."
And she says she will continue to abide by the platform, to revolutionise minds and never stop being a Panther.
"Once a Panther, always a Panther."