Mathematician honoured with research medal
Professor Eamonn O'Brien of the University of Auckland has been awarded this year's Hector Medal by the Royal Society Te Apārangi for his contributions in the field of group theory.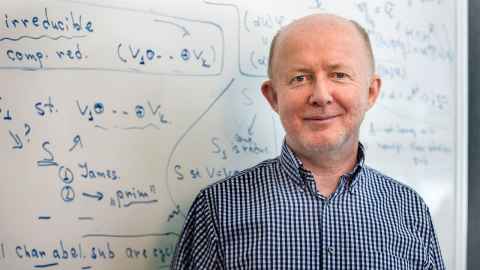 Professor O'Brien is widely regarded as a world-leading expert on the development of highly effective algorithms for group theory and their application in solving major mathematical problems. His work is incorporated into leading computational algebra systems used by many researchers around the world.
One of his major contributions includes the development of an algorithm to solve a long-standing problem posed by celebrated British mathematician Alan Turing whose work is considered foundational to modern computer science and artificial intelligence.
Professor O'Brien has published widely during his career with 85 refereed articles in leading science journals and is the author of a highly-cited research monograph. He has one of the highest citations scores of any New Zealand-based mathematical sciences researcher.
He has given invited lectures at some of the world's most prestigious universities including Oxford, Stanford, Cambridge and Yale, and is a participant and organiser of invitation-only meetings and programmes at major international research centres.
Professor O'Brien gained his BSc from the National University of Ireland and completed a PhD at the Australian National University before joining the University of Auckland where he has taught a wide variety of courses and researched group theory since 1997.
A supervisor for a high number of postgraduate students at Auckland, including at masters and doctoral level, his philosophy of teaching is that it is an evolving experience where the teacher also learns from students.
"It's an ongoing and indispensable challenge to the professional mathematician to convey some of the excitement and beauty of mathematics to students," he says.
"It's a pleasure and privilege to engage with bright keen students at all levels, and contribute to their learning process. I love introducing them to new areas of mathematics, and helping them understand its significance and potential applications."
Professor O'Brien was elected a Fellow of the Royal Society Te Apārangi in 2009 and was awarded a Hood Fellowship by the University of Auckland in 2016. He was an Alexander von Humboldt Research Fellow in Germany in 1995-1997, received a Maclaurin Fellowship in 2007 and the NZ Mathematical Society Research Award in 2004.
He is an editor of the NZ Journal of Mathematics and Managing Editor of the Journal of Algebra (Computational section), the leading research journal of algebra, and is referee for approximately 20 international journals. Earlier this month, he and his collaborators received their 8th joint research grant from the Marsden Fund of the Royal Society Te Apārangi to support their research.
Professor O'Brien says he is honoured to receive the Hector Medal and thanked the many colleagues both here and overseas in the role they played in his achievements.
"I am particularly grateful to my long-time collaborators at the University of Auckland, Jianbei An and Marston Conder. I also thank my partner Alistair and my family for their continuous support and encouragement."
The Hector Medal is awarded annually for outstanding work in chemical, physical or mathematical and information sciences by a researcher in New Zealand and for an outstanding contribution to the advancement of science within their field.