Top award for research on exercise and the brain
Research on the link between exercise and a healthy brain has earned Dr David Moreau one of the year's top science prizes, the Early Career Research Excellence Award for Social Sciences from the Royal Society Te Apārangi.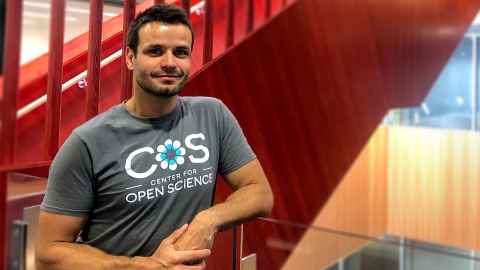 In his role as the Director of the Brain Dynamics Lab in the School of Psychology, Dr Moreau's work focuses on furthering our understanding of brain and behaviour, especially with respect to the changes that occur either as part of normal development or as a result of diseases or disorders.

His research has provided strong evidence that short bursts of high-intensity exercise can have an effect on not just physical health but also cognitive function.

"We know that exercise can have a significant effect on brain functions such as memory or our ability to concentrate, but what we are really interested in is what type of exercise can help, and even more specifically, whether short bursts of exercise are a viable alternative to longer –  and thus more time-consuming – forms of physical activity."

As well as helping healthy people reach their full potential, Dr Moreau's work has the potential to alleviate symptoms of dementia and developmental disorders and to help those who need it most.
"People from less advantaged socio-economic groups or with specific genetic predispositions are likely to benefit most from exercise, and in particular short-burst, high-intensity workouts. By providing strong evidence of the benefits of this type of exercise, we can help people who cannot commit significant amounts of time to exercising."

For people working in offices, the research shows that only short bursts of intensive exercise will improve the ability to plan, focus attention, remember instructions and juggle multiple tasks.

Dr Moreau has also developed an innovative remediation programme for children with learning difficulties that has been tested in a number of schools both in New Zealand and Australia. The work has implications for many fields of neuroscience, health and education.

Dr Moreau joined the University of Auckland in 2015 after completing his postdoctoral training at Princeton University in the United States. He has published widely in top science journals in psychology and neuroscience and has been the recipient of a number of grants and prizes including a Marsden Fast Start grant.

"I am really delighted to win this award, and am extremely grateful to be surrounded by a wonderful research team.

"To me, one of the most appealing aspects of this work is that, beyond the scientific progress it enables, it has the potential to help people in their daily lives."