University of Auckland in world top 100 for employability of graduates
The recently announced Global Employability University Ranking 2020 sees the University of Auckland rated 81st in the world.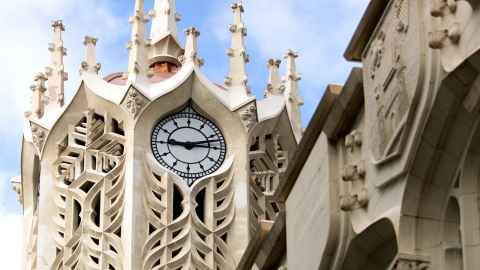 The rankings are the latest in a 10-year study by international consultancy Emerging into the most employable study locations for Higher Education students around the world. In total some 9,000 recruiters from more than 22 different countries rated the employability performance of 6,000 international institutions.
University of Auckland Vice-Chancellor, Professor Dawn Freshwater, said that the employability of graduates is an increasingly significant measure, with the expectation that universities will provide ready-to-work graduates.
"We know that people choose the university they attend based on a number of factors; as well as academic reputation and the student experience, knowing that their degree is highly valued by employers is more and more important.
"Alongside our academic excellence, the University of Auckland prioritises ongoing collaboration with industry bodies and employers. In addition, our Career Development and Employability Services (CDES) provides tools and support to students throughout their time with us to ensure they are highly equipped to enter the work force after graduation.
"We know this is important to students undertaking undergraduate and post-graduate study, and is prioritised by our domestic and international cohorts."
CDES, with academic and other career and employer engagement staff, works with students to build their employability skills. This enables them to develop the knowledge and acquire skills that are required by organisations, ensuring they are work-ready upon graduation.
Employers work with the University throughout the academic year, to network, share knowledge and build employment pipelines. Through the wide range of employer-led events and university career development support, students can develop their capabilities and add value to the organisation they work for, when transitioning from study into the world of work.
One in three employers consider employability to be a university's main purpose.
The release of the ranking by Emerging and Times Higher Education (THE) was accompanied by some key insights from the research, which include:
Employability is replacing traditional drivers of university performance. In 2010 (when the survey was first held) about two thirds of employers were expecting universities to produce ready-to-work graduates. In 2020, almost all of them (85%) do, and one in three consider it to be the university's main purpose.
Adaptability is essential: Seven of ten participants believe that the Covid-19 crisis will upset the established global university order. The combined effects of employers' high employability demand and the pandemic led 80 percent of participants to say a radical review of the university education approach is necessary.
Cooperation between Higher Education and companies will play an increasingly important role in boosting employability: 82 percent of employers believe that their companies should focus on collaborating with universities to develop new training formats.


Employability used to be measured on the percentage of employed students three months after graduation. The definition has evolved and now includes the capability to deliver ready-to-work graduates. It has become a major goal, along with the development of soft skills, for universities worldwide.
Professor Freshwater said that the effects of the Covid-19 pandemic on work-seeking graduates had certainly added a new focus on the importance of employability, and it was a consideration in the development of the new University Strategic Plan.
The University is one of only two ranked New Zealand universities in the Global Employability University Ranking 2020, and is ranked fourth overall in Australasia.
"This aligns well with our academic reputation and our number one place globally in the THE Impact Rankings" the Vice-Chancellor said.
The University of Auckland has also been nominated for the 2020 New Zealand Association of Graduate Employers (NZAGE) Best University Careers Service.