Perzen Patel: 'There's more to Indian food than butter chicken'
Perzen Patel was a finalist in the University of Auckland's Velocity $100k challenge after cooking up an idea for a tasty business.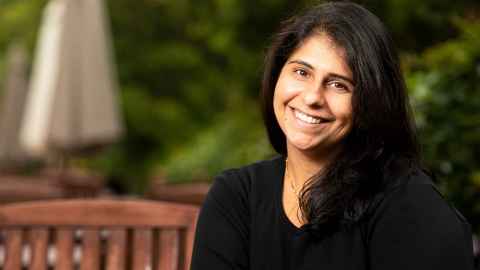 Perzen Patel works in the communications team at the University of Auckland. But she's also trying to excite Kiwis' tastebuds. 
Recently you were a finalist in the Velocity $100k Challenge. Were you surprised?
I took part to have a go and was sure they'd just choose tech businesses as finalists. I decided to apply to make myself write down a business plan. Getting into the finals was a nice surprise and also great because it was the catalyst to get my business going.
What's your business called?
It's called Dolly Mumma and named after my grandmother. I make and sell Indian spice pastes. We've started the #BeyondButterChicken movement! I have an ambitious goal of educating Kiwis to know there's more to Indian cuisine than butter chicken and chicken tikka masala! We want people to get a taste of the real India, recipes shared orally through generations.

But Kiwis love butter chicken!
They do, and I do too, but not the bright orange stuff. Kiwi butter chicken is sweet and creamy and not what Indian food is about at all.
Where did you grow up?
I came to New Zealand from Mumbai, India, when I was 15 and went to high school and university here. I returned to India for around eight years before moving back here permanently with my husband and two preschool sons late last year. We had planned to come in 2020 but my husband's visa came earlier, which was very lucky as it turned out.
What did you do at university?
I did a conjoint degree in hospitality management and business at AUT University. I've always had an interest in both. I've since flip-flopped between comms and marketing and food-related roles. I started out in catering, then PR, then had my own catering business. I'm happiest when I'm doing both.
Do food and storytelling go hand-in-hand?
Yes, I've always been interested in cooking but more importantly in sharing stories about food. In India, I had a food blog, Bawi Bride, where I documented lost recipes from my community. When I moved to New Zealand I wanted to do something similar but different.
What did you come up with?
I started a podcast, the Kiwi Foodcast (kiwifoodcast.com). I began recording episodes during the March lockdown and released the podcast in June once I'd built up enough episodes. The idea is to tell people's food stories and shine a spotlight on New Zealand's diverse food scene. I thought it would be a good way to highlight the stories of Kiwi food entrepreneurs. It also ended up inspiring me to get on with my own business.
Do you test your cooking on colleagues?
I do. I'm constantly feeding them. They are much better at giving feedback than my husband who just eats everything!
What else have you done in the food area?
I was really inspired by all the people I met on the Kiwi Foodcast and during my research I found out about The Kitchen Project. It's a foodie incubator run by ATEED, Panuku Development Auckland and Healthy Families. It's a 26-week programme for food entrepreneurs in West and South Auckland and covers everything from food safety, marketing and all you need to know to set up a food business. Doing Velocity as well as The Kitchen Project helped me get to a launch point.
You work full-time, have a food business, run a podcast and have two pre-schoolers. How?
I work on the business and cook in the evenings and on weekends. My husband helps with the packaging and logistics. We have both always had an entrepreneurial streak and want to show our kids you can have it all if you work hard.  Another reason for starting Dolly Mumma was that my kids came here at a really young age and I realised they could lose touch with Indian food and culture if I don't play an active role in retaining that for them. I try to feed them traditional food and I've created these pastes with them in mind. I don't want them growing up thinking that Indian food is just butter chicken and tikka masala.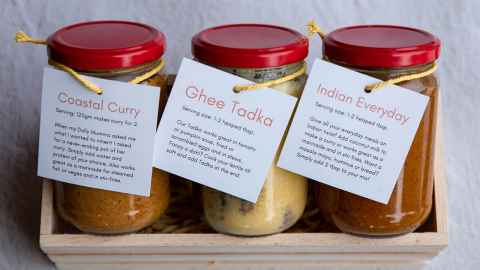 Another reason for starting Dolly Mumma was that my kids came here at a really young age and I realised they could lose touch with Indian food and culture if I don't play an active role in retaining that for them.
What can we cook with your pastes?
You can make great-tasting Indian food using the Indian flavours, but you can use them however you want. Customers have used our curry paste as a pizza base! Italians will kill me, but I've used our Ghee Tadka to make fettuccine. Replace the cheese and Italian herbs with a dollop of our spiced ghee and it's amazing. You can also use our Indian Everyday paste in all mince dishes. I've also used the Ghee Tadka to cover a whole snapper. Wrap it in foil, put it on the barbecue and you have a new flavour in your repertoire. It's a great way to try the flavours without buying ten different seeds and spices and having to work out the amounts.
What even is ghee?
Clarified butter. If you churn cream you get butter. With ghee you keep cooking the cream until you get a clear fat, then you strain it to become ghee. It's also keto friendly.
What should Kiwis know about Indian food?
There's a perception Indian food is heavy, not fresh and a treat food. But Indian food uses seasonal vegetables and is very fresh; the food we tend to buy here is just from one region and is nothing like the food cooked in most Indian homes.
If we want to eat Indian food in Auckland, where would you suggest?
Well I first recommend cooking with Dolly Mumma, of course. But if you're eating out, I like what Cassia is doing and Satya is good too. There's also Saravanaa Bhavan on Hobson Street which makes some of the best dosas in Auckland.
How can people get hold of your pastes?
We're @dollymummanz on Facebook and Instagram. You can also purchase from our online store and we ship across New Zealand.