Reunion director Jake Mahaffy: film graduates are in hot demand
With New Zealand being such a desirable destination for filming series and film, Reunion director Jake Mahaffy says it's a great time to study filmmaking.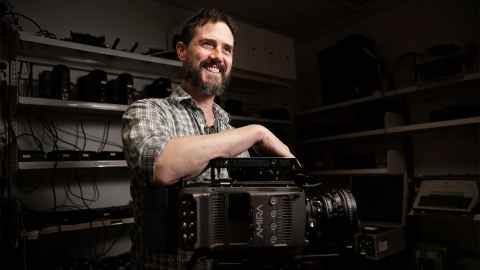 When the crew of Avatar 2 re-entered New Zealand in May it created some angst over 'privilege' in a Covid-19 world. But getting the film's production back on course created jobs for around 400 New Zealanders in the midst of a tourism-smashed economy.
Lord of the Rings, Cowboy Bebop and Sweet Tooth are now in production; another two are in pre-production after more crews completed their quarantine and got on with their work, while also creating jobs for more than 3,000 people. Six international productions and three New Zealand films are under way and RNZ reports they've provided a $650 million boost to the economy.
Associate Professor Jake Mahaffy's film Reunion was completed in early 2020 and opened in theatres around New Zealand on 5 November. It's not remotely on the scale of Avatar – and was never intended to be – but the contraction of film festivals (some going online) and cinema closures delayed the movie's release.
The film stars Emmy Award-winning actress Julia Ormond (The Curious Case of Benjamin Button, Legends of the Fall) and local actors Emma Draper, Cohen Holloway and John Bach. It was funded by the New Zealand Film Commission alongside private US partners.

"It's a relatively low-budget film but the biggest I've worked on," says Jake. "Often, to get private equity investment in a project you have to attach a recognisable name to the cast. That was Julia."
Jake wrote and directed Reunion, the story of a pregnant woman who returns to her old family home to discover her estranged mother there waiting for her. When Jake conceived the film in 2010, he set it in New England in a large snowbound home. After emigrating in 2013, he developed it for a New Zealand setting and shot it in Upper Hutt.
"It's a deeply psychological film with some horror genre elements, magical realism and esoteric content."
It has become difficult for any local mid- or low-budget film projects to get crew here because so many crew are hired out on longer-term, bigger-budget movies and Amazon and Netflix series.
Jake joined the University of Auckland eight years ago and lectures in Media and Screen Production in the Faculty of Arts. He had been living in Providence, Rhode Island on the East Coast, and had founded two filmmaking programmes at American universities. He has achieved recognition from the Sundance Institute, Cannes, Venice, Guggenheim Foundation and other institutions and festivals, for writing, producing and directing low-budget short films (more than a dozen) and features (four). Free in Deed (2015) won Best Film in the Orizzonti Section at the Venice Film Festival.
Jake likes the creative process of both movie formats.
"It can take a long time to get a film up and running, even more so if it is unconventional in style or content. Directors make fewer films compared to people in other roles who move from project to project as they arise. For me, short films are a way of keeping active. Shorts may take a few days or weeks to shoot and a few months in post-production but a feature takes years to complete."
"I've finished two self-made features and two produced films and I understand how the scale of production affects the process. I have a better idea now of what I would attempt in a bigger budget versus no-budget or low-budget projects."
Jake made his first film, Egypt Hollow, for his BFA thesis at the Rhode Island School of Design when he was 20, and it's still the one he's most proud of. It won several awards.
"It was a desperate and inventive film. After all this time, I would love to return to that style of creative process."
Students in the undergraduate or the postgraduate Screen Production programmes don't require a film background to be considered.
"We take 40 students each year in the undergraduate Screen Production major. The classes expose them to new ideas and new films. In the second year, they learn the fundamentals of production techniques and storytelling for screen.
"With the postgraduate Screen programme, which is limited to 18, the classes are specialised and students learn advanced skills while creating an original portfolio of work."
The film production equipment available to students is high quality but postgraduate enrolments are limited by gear availability as well as the number of teachers on staff.

"New Zealand universities aren't like the US in this regard. When I was a professor in the US, both of the programmes I started up had been initiated by targeted alumni endowments."
But he says New Zealand is a great place to make films. While in the past Jake has pictured films in his mind set in the US, that's changing.
"I've written a few recent things that are specifically intended to be shot here. It also avoids the mess of trying to travel for now.
"New Zealand has developed as a destination for the international screen industry and that's set to grow even more, especially with so many people afraid of coronavirus."  
New Zealand has developed as a destination for the international screen industry and that's set to grow even more.
Trailer for Jake Mahaffy's film, Reunion, below. (Story continues further down.)
Behind the scenes, the importance of the film industry to the economy is already recognised.

Manatū Taonga, the Ministry for Culture and Heritage, is supporting the screen sector to develop a 10-year strategy setting out its aspirations to 2030. That includes supporting "sustainable careers" for New Zealand screen workers. The Ministry of Business Innovation and Employment, Hīkina Whakatutuki, is also working through options to continue to support the long-term success of the screen sector.

Jake says the ubiquity of media content and online distribution, as well as access to technology, have led to increased production and opportunities in many facets of the industry. There's a global demand for media 'content'.

"It has become difficult for any local mid- or low-budget film projects to get crew here because so many crew are hired out on longer-term, bigger-budget movies and Amazon and Netflix series."

Jake says there are plenty of choices for students in their creative film endeavours.

"We're not just teaching independent writer-director auteurs. There are different industry pathways whether as a line-producer, cinematographer, editor or documentarian. But the fundamentals are the same: understanding visual narrative, production techniques, organisational skills, collaboration and creativity."
 
Several universities have recognised future potential in the screen sector and offer programmes; Victoria has developed a lab in Miramar, and Massey has a new course.

"I'd recommend Auckland for creatives interested in developing original material, but at the end of the day any interest in studying film is good for the industry – that's the main thing."

– Denise Montgomery

See more of Jake's work: vimeo.com/jakemahaffy