Acts of kindness and support rewarded
Students Olivia Andrevski and Filip Ograbek have each been awarded a prize of $2,500 as part of the Grace Shi Acts of Kindness and Support of Fellow Property Students Award 2020.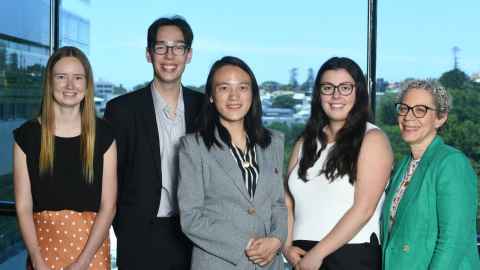 The award was made possible thanks to a generous donation to the Property Department by alumna Grace Shi, a Residential Property Manager with LJ Hooker Ponsonby who completed her BCom/BProp conjoint degree in 2016.
Both students were chosen for their significant acts of kindness and support to their peers and lecturers throughout the year. Olivia and Filip were nominated respectively by Head of Property Professor Deborah Levy and ALES (Auckland Land Economics Society) President Anna Creahan in collaboration with the ALES committee.
Filip Ograbek
"Despite the circumstances of 2020, Filip has been hard-working and motivated and has consistently gone out of his way to motivate and offer help and support to other property students. He has volunteered and done a fantastic job as a class rep in two property courses this year, answering questions, guiding and encouraging others. Filip should be acknowledged for his hard work and kindness towards fellow students this year," says Anna Creahan, ALES President.

Olivia Andrevski
"Olivia has been outstanding in supporting her classmates by utilising the Piazza platform. Her input has been appreciated greatly by staff teaching in the Department and her fellow students and she deserves to be acknowledged for her contributions," says Professor Deborah Levy, Head of the Property Department.
Olivia and Filip will receive their awards this year and be recognised for their achievement at the Department of Property Dinner in 2021.
 
If you would like to find out more about giving to the Business School, contact Mark Bentley.