Business students tackle leadership issues they care about
Master of Commerce students Benjamin Robb and Zach Withers are among the 15 successful recipients of the highly competitive Kupe Leadership Scholarships for 2020.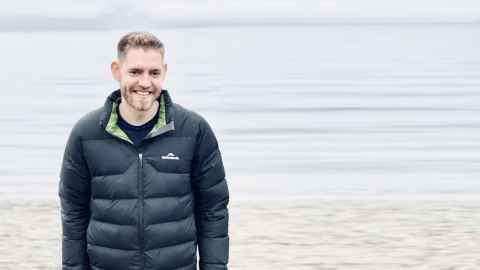 Kupe scholars are selected based on their academic strength as well as their leadership potential and deep personal commitment to making a positive contribution to Aotearoa New Zealand. During the Kupe Leadership year, they are assigned a personal mentor to support, nurture and challenge their leadership aspirations, and receive a stipend as well as support from a sponsor.
Due to the Covid-19 pandemic, the Kupe Leadership Programme was a bit different last year. The scholars had their orientation at Te Tii Marae in Waitangi in February, but it was only in July that they were able to meet their mentors, donors and cohort in person for the first time. Prior to that, most of the Kupe scholars had only met their donor or mentor over Zoom.
Benjamin, who is doing a Master of Commerce in Global Management and Innovation, has a keen interest in the topic of modern slavery in supply chains. Former Warehouse CEO and adjunct professor Mark Powell was his Kupe mentor and Hugh Fletcher was his Kupe donor.
Zach, who is studying a Master of Commerce in Economics, is passionate about the 'human factor' in economics and is starting a graduate role in Wellington this year at Motu. Bruce Aitken – former President and CEO of Methanex, former chair at the University of British Columbia's Centre for CEO Leadership, and a Distinguished Alumnus of the University of Auckland Business School – was Zach's mentor and September Giving Trust was his Kupe donor.
We caught up with Benjamin and Zach early this year and in the following articles, they talk about their experiences from the programme.

Benjamin Robb, Master of Commerce (Global Management and Innovation) student
The Kupe Scholarship was and is an incredible part of my life, and I highly recommend applying for it if you are passionate about an issue that requires leadership and if you are willing to learn and be challenged to grow.

"The scholarship offered many exceptionally valuable components, but the mentoring aspect really caught my eye as I wanted someone to help me develop in leadership regarding addressing modern slavery, which I am passionate about.

"I felt absolutely surprised and overwhelmed when I learned that I received the scholarship. After participating in the selection day with other candidates, I felt extremely inadequate, so it was humbling to realise the panel thought of me as a strong candidate for the scholarship.
"The cohort of students in the programme helped make the scholarship unique and I enjoyed learning from them and building relationships with them throughout the year. Despite complications from Covid-19, we managed to stay in touch and help each other, using our interdisciplinary knowledge to think deeply about leadership and how it applies in different contexts.
"It was an absolute pleasure and privilege to be mentored by Mark Powell. He has such a wealth of experience and wisdom that was helpful, both in my personal life and research project on modern slavery. There were so many insights from Mark's mentoring that it's hard to pick just one. But I think a key takeaway was learning from him to think more deeply and broadly about difficult topics.
"I hope to continue incorporating the life lessons and experiences to make more tangible change in the world, especially relating to abolishing modern slavery. I also want to continue building relationships with my cohort, learning from them, and gaining a fuller understanding of what leadership is and how to make valuable contributions wherever I am in life.
"I'm looking forward to seeing where the other scholars and future scholars go in making changes."

Zach Withers, Master of Commerce (Economics) student
I am incredibly grateful for the programme – the exposure to what leadership can look like, and the friends and connections I will take with me into the future.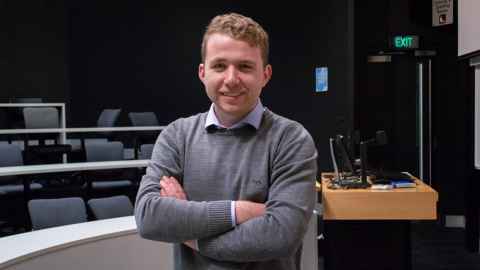 "I liked the idea of exploring leadership with a group of students from across the university, each on a completely different path. The mentoring component was also particularly important to me as I knew I would be able to learn a lot from my mentor.
"My favourite part of the programme was the orientation at Te Tii Marae at Waitangi. The time we spent was all about connecting as a group, sharing who we are and building trust. Being in such a special place in New Zealand to learn about leadership and each other was a fantastic experience!
"My mentor Bruce Aitken and I had a great mentoring relationship. I had hoped for a mentor with a considerable depth of experience who could share what they learned, and Bruce was a great match. We would meet up every few weeks, initially over Zoom and then for coffee, to talk through whatever topics we thought could be relevant. I particularly valued our discussions on his experiences dealing with uncertainty and crises throughout his business career.
"The most important takeaway from the programme for me was to be able to challenge the narrow and restrictive view of leadership I had. It was great to have an opportunity to step back and view how leadership looked like in government, social enterprise, business and current events. This has challenged my perspective and given me the questions I need to answer.
"As I move from the University of Auckland out into the wider world, I am looking to apply what I've learned about leadership to my own career. My long-term aspirations relate to integrating what people value into economic and policy models, as well as learning and growing in the process."