NZ species a finalist in 'Mollusc of the Year'
A New Zealand mollusc has beaten off more than a hundred competitors in a global competition to be named as 'Mollusc of the Year" and is now up against just four rivals for the top title.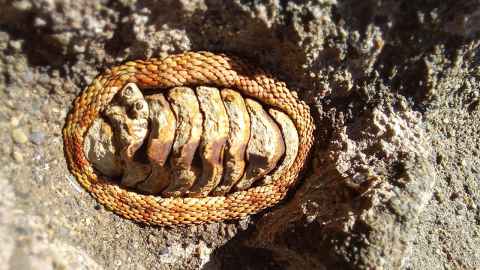 The international competition is being run by a natural history museum in Germany, the Senckenberg Museum, which is one of the largest museums and research institutes in Europe. The aim is to raise the profile of molluscs from around the world and to make sure their genomic makeup gets the attention it deserves.
Dr Priscila Salloum from the University of Auckland's School of Biological Sciences nominated the common marine snakeskin chiton (Sypharochiton pelliserpentis) and is thrilled it has made the final five, beating off more than 100 global submissions.
If the chiton wins, it will get its whole genome sequenced at Senckenberg's LOEWE Centre for Translational Biodiversity Genomics.
"It's such an extraordinary animal and commonly seen on New Zealand beaches either on rocks or in rock pools so it would be fantastic to have its genome sequenced, giving us far more information about how it has adapted to its environment," she says.
New Zealand has a range of chitons but snakeskin is the only one that withstands long periods of air and sun exposure once the tide is out. It is known as a 'reef cleaner' because it scrapes the rocks clean with its strong iron teeth, feeding on seaweed.

Genomic sequencing will reveal important information about its capacity to endure heat and water loss and how it manages to stay in the open air above sea level for long periods of time.
"The Senckenberg Museum is keen to see that molluscs get just as much attention as other animals by holding a competition like this, and we hope to get more research underway because very little has been done on molluscs compared to other animals," Dr Salloum says.
The competition winner will be announced on the 1st of February (2 February NZ time) and voting is open up until 31 January. The public is invited to vote at tbg.senckenberg.de.