Government supports University's student entrepreneurship development programme
The Government's venture investment vehicle, New Zealand Growth Capital Partners, have signed on to assist Velocity, the University's leading student entrepreneurship development programme, through sponsorship and network support.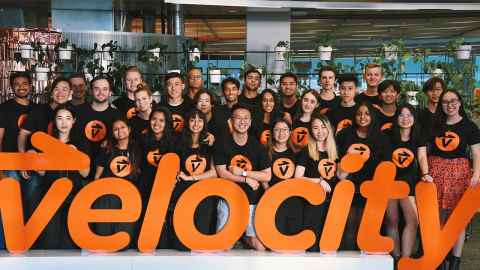 Together they will provide substantial opportunities to increase the potential and capability of New Zealand's next generation of innovators and entrepreneurs.
Velocity is the University of Auckland's student entrepreneurship development programme, delivered through the University of Auckland Business School's Centre for Innovation and Entrepreneurship and free for all University of Auckland students to participate in.
Now in its 18th year, Velocity has provided opportunities to over 15,000 students and has a legacy of creating thriving business leaders and entrepreneurs.

 
Past ventures spun out of Velocity include PowerbyProxy, whose wireless charging technology was bought by Apple, and education technology company Kami, who have expanded exponentially during the pandemic and globally have over 20 million users.

Established in 2002 by the Government, New Zealand Growth Capital Partners (NZGCP) invests in early-stage Kiwi companies with high-growth potential. They aim to develop and foster a vibrant and self-sustaining New Zealand early-stage ecosystem, primarily through their investment vehicles, the Aspire Fund and Elevate Fund.

A number of past Velocity participants and ventures have gone on to be supported by NZGCP including Hectre, Objective Acuity, Tectonus, StrutFit and Kami.

NZGCP Investment Director Marcus Henderson says "We've seen first-hand the benefits of Velocity. By supporting this programme we can further help Kiwi entrepreneurs grow from grass roots. We look forward to working together to nurture innovation and help more bold ideas and big dreams come to life."

Marcus says that early-stage entrepreneurship education, market development and investment support is essential in order for New Zealand's entrepreneurial ecosystem to thrive.

"We partner with other investors to give Kiwi innovators the leg up that they need to succeed. New Zealand has a very diverse and creative entrepreneurial community for such a small country. This means that the local ecosystem is extremely vibrant with a wide range of exciting ventures and opportunities for talent. New Zealand also has its challenges though, including our small market and geographic remoteness."

"Support for early-stage New Zealand start-ups can really make a difference in being able to be internationally competitive. For example orchard software management company Hectre, whose founder went through the Velocity programme, has had investment support from NZGCP. They have recently expanded operations across New Zealand and into Washington and New York."

Director of the University of Auckland Business School's Centre for Innovation and Entrepreneurship Wendy Kerr says "We are delighted that New Zealand Capital Growth Partners are joining UniServices, Return On Science, HGM and our founding sponsor the University of Auckland Business School to sponsor Velocity."

"Staff from NZGCP have already been supporting our students through mentorship and volunteering to be judges for our business plan competitions, and we greatly appreciate this increased support. It's wonderful to have the support of people with a shared purpose and passion. New Zealand is still at the start of its journey to develop into a knowledge-based economy and a thriving entrepreneurial ecosystem is essential to grow New Zealand's potential and impact."
If you are interested in becoming a sponsor, donor or volunteer please read here about engaging with the Centre for Innovation and Entrepreneurship.