White coat welcome for future pharmacists
Despite Covid disruptions, the newest cohort of pharmacy students celebrated their White Coat Ceremony—an important rite of passage in the Bachelor of Pharmacy (BPharm).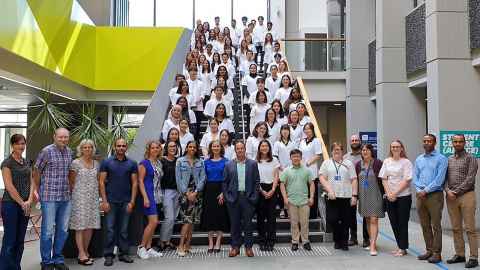 It's a significant moment in every pharmacy student's career—the day that students are presented with their pharmacy dispensing jacket. The White Coat Ceremony is not only a special event to welcome Part II pharmacy students into the programme, it also marks the beginning of their professional journey into the tight-knit pharmacy community.  
It is a special time where students are presented with a pharmacy dispensing jacket… so that students can mark their transition from undergraduate student in health to undergraduate pharmacist in development.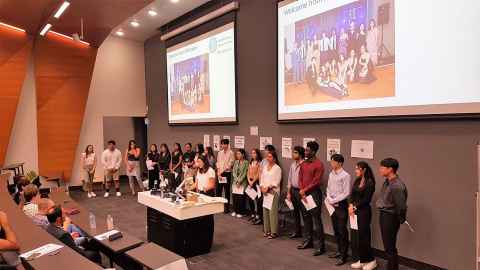 Although Covid restrictions meant that pharmacy sector partners could not attend, the Auckland Pharmacy Student Association (APSA) and Māori and Pacific Admissions Scheme (MAPAS) students gave a memorable welcome to the newest pharmacy cohort with waiata, as a replacement for the faculty mihi whakatau that the clinical students missed on the prior Tuesday due to lockdown.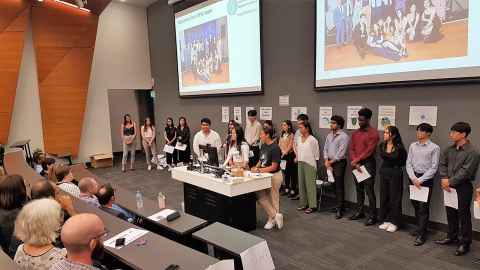 Students received further welcome from the Chief Pharmacy Strategy Advisor in the Ministry of Health, Andi Shirtcliffe, who joined the ceremony remotely to talk about how the BPharm can lead to amazing opportunities for diverse pathways and careers in health.
The ceremony was also a chance to recognise Part II and III students who have excelled academically and in their development throughout last year. They were awarded prizes that are sponsored by a variety of important pharmacy sector groups, including the Pharmaceutical Society of New Zealand and Ngā Kaitiaki o te Puna Rongoā (the Māori Pharmacists Association). Congratulations to the following BPharm student 2020 prize recipients acknowledged at the ceremony:
Part II prize
School of Pharmacy Part II Experiential Learning Prize
2020 student winner: Mavis Wong
This prize is awarded to recognise the student who achieves the best overall achievement and performance in experiential learning placements at Part II level in the Bachelor of Pharmacy degree.
Part III prizes
Hauora Māori in Pharmacy Practice in BPharm Part III
2020 student winner: Tiare Manu
This prize is awarded to reward and recognise the student who best demonstrates development of skills, understandings and reflection in relation to the Hauora Māori domain learning across Parts II and III. The overall aim of this prize is to foster and recognise graduates who can confidently deliver culturally competent care that can contribute to eliminating health inequities that exist for Māori.
The prize is presented by the Māori Pharmacists Association in partnership with the School of Pharmacy.  
PSNZ Leadership in Pharmacy Studies Prize in BPharm Part III
2020 student winner: Laura Snowden
This prize is awarded to the student who demonstrates the greatest leadership development across Part III as determined by a portfolio submission and a judging panel. The main purpose of the Prize is to stimulate interest in pharmacy studies along with personal and professional leadership development, and service contributions among Part III students in the Bachelor of Pharmacy degree at the University of Auckland.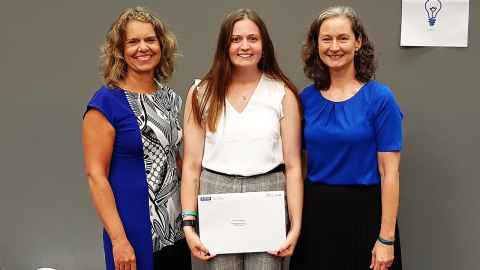 Pharmaceutical Society of New Zealand Prize for Overall Top Student in BPharm Part III
2020 student winner: Bree-anna Van Der Oest
This prize is awarded to the overall top student (grades achieved across all of Part III courses) in BPharm Part III and is provided by the Pharmaceutical Society of New Zealand Incorporated.