Scholarship supports women carving careers in computer science
A gap year in Spain and a love for mathematics fuelled Anne Newmarch's desire to study conjoint bachelors degrees, in Computer Science and Global Studies, at the University of Auckland.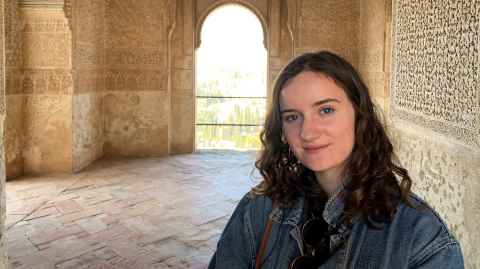 The second year student already has a list of goals she wants to achieve, including improving technology to support language learning.
"A long-term goal would be to combine my love of language with my love of machine learning, to create better language learning programmes that would be able to better adapt to the needs of the user," she says.
"People often get bored when trying to learn a new language. I think that's something that really inhibits people from learning. The minute something becomes a chore, people start to lose their interest in it. It would be great to be able to do something about that."
Anne was awarded the Nicola Crowley Memorial Scholarship for Women in Computer Science, which she says she was "extremely grateful" to receive.
The scholarship was established in honour of a highly valued staff member at New Zealand Superannuation Fund, Nicola Crowley, who passed away suddenly in 2016. The scholarship aims to support women pursuing careers in computer science, which was Nicola's area of expertise.
New Zealand Superannuation Fund's Kurt Bellian says: "This memorial scholarship is such a fitting tribute to Nicola. She was a woman who broke all the stereotypes. Having a scholarship in her name and sponsoring more young women into the IT industry is a great legacy, and one I think Nicola would be really proud of."