Education student wins Kupe Leadership Scholarship
Jazpah Tata's commitment to making change through education has won her a Kupe Leadership Scholarship worth $22,000. The scholarship will support Jazpah as she investigates the way New Zealand history is being taught in schools.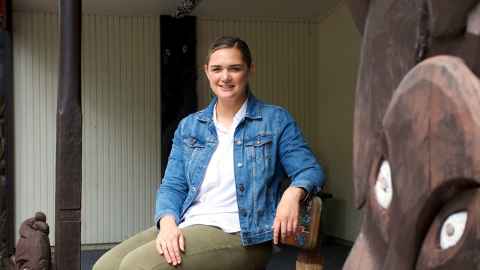 If anyone knows the importance of good teachers, it's Jazpah Tata. By the time she was 18, she'd been to ten different schools. The daughter of a rural police officer, Jazpah and her six siblings moved from small town to small town, often in areas with high gang populations. It was these experiences that showed Jazpah the importance of teachers, particularly for marginalised communities.
University was never really on Jazpah's radar, but after finishing school and working in administration for a few years, she decided office work wasn't for her. She moved back to New Zealand and enrolled in a Bachelor of Education (Teaching) at the University of Auckland's South Auckland Campus.
"I decided to get into teaching because I had such amazing teachers when I was growing up. They were so passionate and helped me develop a hunger to learn. I want to be that teacher for every single person, regardless of their background, culture or language."
Inclusivity and equity are two values close to Jazpah's heart, and she takes them with her to every classroom. As a Māori student teacher with fair hair and skin, she's had a unique perspective on prejudices in schools throughout her teaching experiences.
"Because of my fair skin, some people aren't shy to share their cultural biases with me – such as predicting students' abilities based on their ethnicities. This can be hard to hear sometimes, but it's good because it means I am aware of the realities of some classrooms and I can challenge biases in respectful ways. Helping people to become more culturally aware is crucial to ensuring that all students can have a good experience."
After succeeding in her undergraduate studies, Jazpah dived straight into a Master of Education, to delve into research around New Zealand history, and the way it's being taught in schools.
"With New Zealand history becoming compulsory in schools from next year, it's a great time to look into how teachers are feeling about teaching it."
I believe if educators and children can critically engage with our country's history through multiple lenses, this can help facilitate transformative change, as we develop greater understanding for each other.
Jazpah's hard work, good grades and commitment to making change through education won her a Kupe Leadership Scholarship, funded by the Woolf Fisher Trust and the McCall MacBain Foundation. The scholarship includes access to a bespoke leadership programme, one-on-one mentoring and a $22,000 stipend.
"It is an amazing opportunity to be part of the Kupe Leadership programme, and I didn't expect to be chosen at all. The scholarship means I can focus on my research, while balancing my other roles as a wife, mother and volunteer, without having to worry about working. It's awesome to work with such passionate, like-minded people in the programme. We all have the same mentality around changing communities.
"I'm especially grateful that my particular scholarship is sponsored by the Woolf Fisher Trust, because they do such incredible work. I'm also looking forward to meeting my mentor, Hoana Pearson QSM. She's received a Queen's Service Medal for service to Māori and Education, and her work focuses on culturally responsive leadership and supporting Māori in leadership roles.
"Once I finish my masters, I want to get out and teach! But my ultimate goal is to do a PhD and be part of the Bachelor of Education (Teaching) programme at the University of Auckland. The programme has meant a lot to me, and if I could give back and help other teachers to expand their knowledge, skills and willingness to teach inclusively, that would be my dream."