Story of Nukutawhiti's voyage: a Ngāpuhi collaboration
The voyage of famous Polynesian navigator Nukutawhiti from Hawaiki to Aotearoa has been brought to life in a ground-breaking online narrative for schools.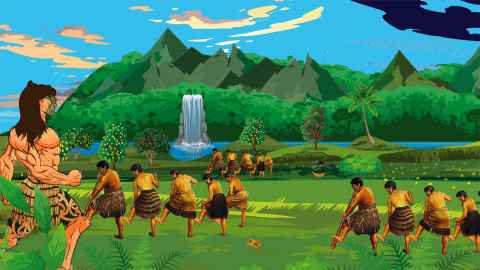 Associate Professor Melinda Webber (Ngāpuhi, Ngāti Kahu, Ngāti Whakaue) from the University of Auckland, who co-wrote the resource, alongside University doctoral student Kapua O'Connor, says the collaborative project is "Vision Mātauranga in action".
"It's research that genuinely and positively impacts Māori communities, in this case, Māori school students, and is an example of how a research-informed, localised curriculum can engage students with kōrero that celebrates their whakapapa, and their ancestors, who were exceptionally talented."
Readers can scroll through three vibrant landscapes, following the adventures of Nukutawhiti, the tohunga of the Ngātokimatawhaorua waka, his trusty dog and the four taniwha who guide him on his way across the Pacific Ocean.
The story weaves together science, technology and tikanga Māori by using animated illustrations and interactive avatars layered with taonga pūoro (traditional musical instrument) soundscapes, all created with web-based technology.
"Many taitamariki Māori from Te Tai Tokerau descend from Nukutawhiti," says Dr Webber, "and Kapua and I hoped that this kōrero, among others, would elicit cultural pride, aspiration, and motivation.
"Learning about inspirational tūpuna from their own whakapapa can teach and remind Māori students that they descend from greatness."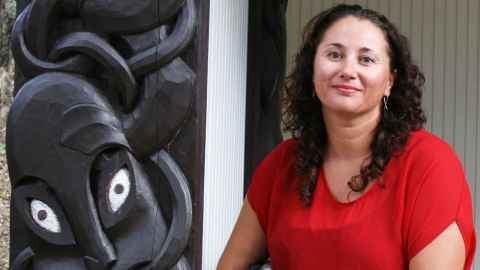 The narrative originally came from Dr Webber's Marsden-funded project 'A fire in the belly of Hineāmaru' and is one of 24 stories in two of her Marsden fund-related books, currently close to publication with Auckland University Press.
The project team trialled the whakapapa narrative with children from Kaikohe Intermediate, who helped design the images with teachers at a Kaikohe kura, alongside Akau Limited, a Ngāpuhi-led collaborative design and architecture company.
Nikora Ngaropo from Motion and Design created the graphics and actor/director Quinton Hita translated the te reo.
The resource is a collaboration with Te Rūnanga A iwi o Ngāpuhi, made possible by the Ministry of Education's Toikuranui Investment Fund.