Auckland's diversity and creativity celebrated in new public artwork
Students, local artists and iwi have collaborated to create a new large-scale street mural in New Zealand's largest and most diverse city, Tāmaki Makaurau Auckland.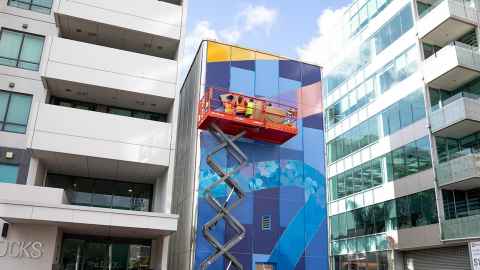 University of Auckland art students Celia Lee and Jenny Zhong, based at the Elam School of Fine Arts, were selected alongside Unitec student Nikita Sharma to design the mural in conjunction with experienced Kiwi artist Ross Liew and Hana Maihi of Ngāti Whātua Ōrākei, the local Māori iwi (tribe).
The artwork is on one side of a three-sided 12-metre air vent in the Te Tōangaroa precinct downtown. The land is owned by Ngāti Whātua Ōrākei, who are committed to reinvigorating the area celebrating culture through artistic collaboration.
Being part of the mural project allowed the students to work with two established artists and to explore what it means to make public art in New Zealand.
As part of the design process, the students were invited to visit Ōrākei Marae for a three-day deep dive into the local history of the hapū (sub-tribe). The experience helped the students feel more connected to the city and New Zealand, allowing them to see similarities between their own cultures and Māori traditions and values. This understanding helped inform the design of the mural, which will be painted alongside two other murals designed by the iwi.
I love being in Auckland and being part of the mural team gave me the chance develop my skills, learn from experienced artists and understand more about the culture. It also felt like a great way to give something back to the city and people who have welcomed me.
The mural includes a Poutama pattern, which steps up towards the middle and represents the idea of gaining knowledge and insight. The Poutama visually provides structure to the design, and conceptually refers to the fact that all visitors are hosted by mana whenua (the people of the local Māori tribe). The pattern is commonly used in Māori weaving and is used here, along with other inclusive patterns, to symbolise the interweaving of different cultures into the fabric of the city.
As a city with two harbours and a large amount of accessible coast, water is a key feature of the Auckland experience. The river running through the design is used as a symbol for life and nourishment and represents a historical waterway that runs through Auckland.
National flowers are used to illustrate the rich mix of cultures that contribute to the life of the city. The flowers are all viewed from the same angle, highlighting common ground between the many cultures who call Auckland home.
The project was funded through the Ministry of Education's International Student Wellbeing Fund and aims to help overseas students and new New Zealanders feel welcome and included in Auckland.
Nikita Sharma has created murals in her home country of India and jumped at the chance to make a positive difference here in Auckland. "I couldn't pass up the opportunity to be involved in such an amazing project. I love being in Auckland and being part of the mural team gave me the chance develop my skills, learn from experienced artists and understand more about the culture. It also felt like a great way to give something back to the city and people who have welcomed me. I hope that people feel happy and connected when they see the artwork."