What can we learn from a virtual placenta?
Researchers at the University of Auckland are using mathematical modelling to create a virtual pregnancy, to better understand the workings of the placenta.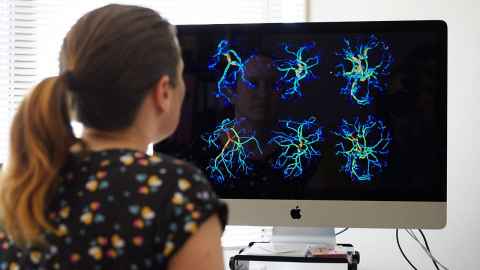 The placenta acts as a life-support system for the baby during pregnancy, but it is one of the least studied human organs. 
This knowledge gap is being addressed by researchers at the University of Auckland who are using mathematical modelling to create a virtual pregnancy.  
The research is being co-led by associate professors Alys Clark (Auckland Bioengineering Institute) and Jo James (Faculty of Medical and Health Sciences), in collaboration with researchers from Oxford, Cambridge and London.

The placenta is a complex organ, says Dr Clark, noting that it's the width of a dinner plate, "But if its surface was laid out it would be 15 square metres, roughly the size of three king-size beds".
"Pregnancy itself is a complex and dynamic state, with two separate blood circulations – that of mum and that of baby – coming into close proximity to exchange nutrients, oxygen and wastes," she says.
When this exchange system does not work as well as it should, it can affect the baby's growth, leading to a condition called Fetal Growth Restriction (FGR), which occurs in 10-15 percent of pregnancies. FGR puts a baby at risk of being still-born, or can have life-long impacts on the baby's health.
However, a lack of understanding of what distinguishes normal pregnancies from abnormal pregnancies means that current ultrasound approaches are not able to predict which babies might be affected, and as a result many babies are missed that may need help .
"Ultrasound scanning technologies used in pregnancy are not particularly sophisticated" says Dr Clark. "The scanning technologies we typically use to determine the health of a growing fetus haven't changed much since the 1980s."
The scanning technologies we typically use to determine the health of a growing fetus haven't changed much since the 1980s.
Drawing on data from real pregnancies, the team is developing ways to use computational modelling to build a 'virtual uterus'. This allows them to mimic anatomical changes they see in real pregnancies, and determine which of these changes really matter for the function of the placenta, and for the baby's growth.
By comparing the results from their 'virtual uterus' with ultrasound and MRI imaging data, they can better understand why blood flow to the placenta may be impaired in some pregnancies.
They hope that together this will allow them to develop new ways of using ultrasound in pregnancy that focus in on the blood vessels that matter most to feed the baby, to better identify and diagnose at-risk babies.
"Using maths to understand pregnancy may seem like an unusual match," says Dr James. "But mathematical modelling provides a unique opportunity to computationally 'experiment' on human pregnancy in a way that would not be possible in real women."
For instance, in a study recently published in the Journal of Theoretical Biology, the team showed that they can run simulations of blood flow in individual patient's placentas, and use this to understand how the baby may have coped if parts of its placenta had stopped functioning well. Such models may help clinicians better understand how what they are seeing on imaging may actually affect the baby.
One major problem in FGR is that sometimes the fetus does not get as much oxygen as it needs.

"While ultrasound can measure blood flow, it can't measure the amount of oxygen the baby is receiving."
To tackle this issue, the team is also working with researchers in Auckland and London to use new technologies to assess health in pregnancy, such as state-of-the-art MRI, which allow for detailed visualisation of oxygen levels in the uterus.
While the team is using high-tech technologies for research, the goal is to provide tools that everyone has access to.
"We aim to ultimately apply this knowledge so that pregnancy disorders can be better identified through routine ultrasound scanning," says Dr Clark.