Pronouns 101 introduces new level of safety to hospitals
Medical students on hospital placements are sporting name badges with pronouns as part of a Rainbow-inclusive, student-led project.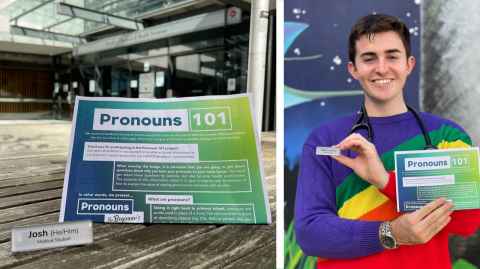 Dubbed "Pronouns 101", the project celebrates a newly formed role for a Rainbow communities representative on the Auckland University Medical Students Association (AUMSA).
The inaugural Rainbow representative, fourth-year medical student Josh McCormack, lobbied for the role with a petition signed by several hundred medical students.
Josh's first big challenge was finding funding for the project, with the Medical Assurance Society (MAS) eventually jumping on board to fund 101 name badges and accompanying educational flyers.
"There are three key drivers for the project: normalising the sharing of pronouns, educating people about what it means to share pronouns, and making it clear we are allies to our LGBTQITakatāpui+ communities," Josh says.
According to the educational flyer, the name badges use third-person singular pronouns (e.g., he, she, they, ia), as they tend to reflect the gender of the person they describe.
"Cisgender people, i.e., those who have a gender identity that matches their assigned gender at birth, may not have experienced being misgendered, but it is important cis people use their privilege to help create safe spaces for all people. Assuming that everyone you meet has a cisgender identity can be described as 'cisnormativity'."
"Because of cisnormativity, some people have no choice but to share or declare their pronouns," says Josh.
By normalising the presence of pronouns on our name badges, we are creating a platform for trans, intersex or non-binary people to share their pronouns without being the only ones doing so.
"If we all do it together, we create safe space and platform for everyone to share their pronouns," he says.
Further, it shares the workload of explaining personal pronouns to people who may not have seen them before. This protects trans, intersex, non-binary and takatāpui people from always being the ones to have these difficult converstaions, Josh says.
Feedback has been that more of the around 1,350 medical students would like name badges. Similarly, students from other clinical areas are considering taking up the project.
Now the AUMSA is fundraising on a givealittle page that asks people to cover the $14 cost of a name badge and flyer. Ten percent of donations is going to Rainbow Youth, an advocacy organisation that has provided advice on the safety of the project.
With this project, hospitals have become more safe, inclusive and equitable, says director of student equity Dr Terry O'Neill.
Increasingly, staff and students at the University of Auckland are sharing their pronouns, and this is another excellent initiative that will improve safety for all LGBTQITakatāpui+ communities, Terry says.
Pronouns 101 takes the doctors' pledge "first, do no harm," to a whole new level.