Charlotte Grimshaw's home truths
Charlotte Grimshaw is an award-winning author of seven novels and two short-story collections. She's also the daughter of another literary giant, C. K. Stead, and it's her family life that she reflects on in The Mirror Book, a Memoir. She talks to Janet McAllister.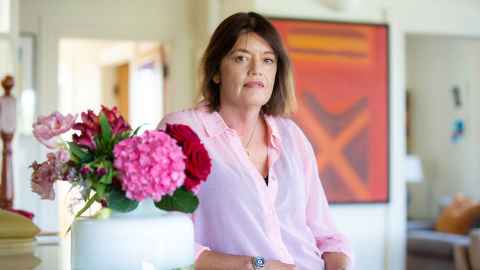 I've always been told I come across as 'frosty and aloof', but I don't feel like that at all.
We're both a little on edge. I'm nervous because I'm interviewing one of the most important Pākehā writers working today. Charlotte Grimshaw is nervous because shyness is one of her natural states.

We're extra tremulous because I'm here to ask about Charlotte's extraordinary new memoir The Mirror Book. The book evokes many traumas she's faced, including those stemming from her complex relationship with her mother, Kay, and her father, Karl – aka C.K. Stead, 88, Emeritus Professor of the University, another of the most important Pākehā writers working today.

"I've never done anything so exposing before," says Charlotte. "It's nerve-wracking. None of it has been an easy process."

She wrote the book for her family, "almost as an appeal for empathy, for understanding or acceptance". The paradox: this family trained in intimate observation – for literature's sake – does not discuss the personal in real life. They don't ring; instead they email. They don't sit down for a heart-to-heart face-to-face; instead they publish.

"If only they'd engaged in a little more conversation, I wouldn't have gone away and written the book," Charlotte jokes.

Her husband, Paul, has been immensely encouraging and urged her to publish ("we're close, he's a solid character, tough and sanguine"). Other figures in the book – her brother, her daughter – have also received it positively. When we met, Charlotte's two sons had not finished reading it, but another young relative had written thanking her "for helping with understanding members of the family".

And her parents? They have read it, but in terms of its effects, just as with the French Revolution, it's too early to tell.

I'm a stranger in Charlotte's living room, asking her what it's like to talk about her crises to strangers in her living room ("It's very tricky," responds the meta writer to this meta question).

It's her trauma, yet she is the one working to put me at ease, kindly pouring me a second glass of water without being asked; asking where I will be most comfortable for the interview, unwilling to reveal her own preference. (We end up on sofa seats below a Karl Maughan garden painting in her classically gorgeous Auckland villa. It's a pleasant space for a tricky conversation, and the crowded walls testify to the close relationship between New Zealand arts and letters.)

"I've always been told I come across as 'frosty and aloof', but I don't feel like that at all," Charlotte says.
I never contributed in tutorials. I spent the whole time hiding, trying to melt into the background while at the same time finding it fantastically interesting.  
Her actions and words throughout the hour are not frosty but generous; the 'aloof' reputation is probably because, between her frequent jokey asides, she wears the serious demeanour common among the shy.

She describes her conscientious young student self at the University's Law School 35 years ago as "spectacularly silent".

"I was not an outgoing student," she laughs, in understatement. "I never contributed in tutorials. I spent the whole time hiding, trying to melt into the background while at the same time finding it fantastically interesting."

She was always drawn to the "human drama" of criminal law – and she uses this interest "in why people commit crime, in antisocial behaviour" in some of her fiction. Although she hasn't practised law for decades, she's pleased she studied it: "A law degree gives a good grounding and understanding in the way society works, everything from politics to the constitution of society."

She did law to do something different from her family – but ended up getting a two-book deal by her late twenties, living in London with young children. Given the level of literary triumph her family was used to, did she realise what a massive achievement that was?
"Probably not," she says. "I wouldn't have been thrilled. I would have been focused and nervous about how to get it done."

I ask what she does to relax. She responds with a quote from a midlife-crisis novel from fellow famous literary offspring Martin Amis: "We are the unrelaxed."

"The way I relax is usually with furious exercise to burn off being so unrelaxed," she says. She walks her dog, Phillip, whose unwitting namesake is an Irish writer Charlotte once met at a literary festival.

Her long list of successes is stunning: seven novels, two short-story collections, the Montana Medal for fiction, the BNZ Katherine Mansfield Award, two-time Voyager Media Awards Reviewer of the Year… the list goes on. And so The Mirror Book is a compelling look behind-the-scenes of a pre-eminent literary family. But it's also a remarkably relatable book – after gulping it down within 24 hours, I recommended it to several friends, because the feelings and attitudes Charlotte describes echo some of their own. A clinical psychologist even urged Charlotte to publish it.

"Since I think of the book as a bit of a plea for empathy and for treating each other better, I love the idea that people can relate to it," says Charlotte. "Even better if it helps with understanding."